It's time for another round of Kraftin' Kimmie Stamps previews!  Today the Krafty Girls are showing off the latest sets illustrated by Emilie Goulet, and they are a ton of fun!
Make sure you check out all the Krafty Girls' blogs – you can see who is sharing previews today by visiting the Kraftin' Kimmie Stamps blog.  Leave a comment on each blog as Kimmie will be drawing prize winners each day!  Today two lucky commenter will each win a gnometastic set of stamps!
** The new stamps will be available to order on Sunday 18th March from Kraftin' Kimmie Stamps in Canada or in the UK/Europe from Quixotic Paperie! **
Like yesterday, I had intended to create a set of cards, but yep, you guessed it – time got away from me.  It has a nasty habit of doing that at the moment!  Rest assured though, you will be seeing the other two gnome cards here very soon because these images are SO MUCH FUN to colour!
On my card today I've used an image and sentiment from the Hangin' With My Gnomies set.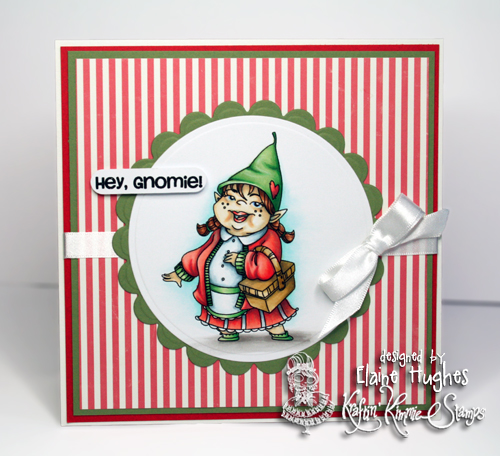 Image was coloured using ShinHan Touch Twin markers on Make it Colour Blending Card (I will edit in colour maps later on for those who are interested).  Papers are from my scraps box and are from one of the Echo Park packs I think.
Join us again tomorrow for a peek at the gorgeous new stamps from Annie Rodrigue!