It's hop time!  The fantastic new Kraftin' Kimmie Stamps release is here and we're celebrating.
Make sure you comment at each and every blog today (see the whole hop list by checking the Kraftin' Kimmie Stamps blog ), as some lucky commenters will win packages of these awesome new stamps!
** The new stamps are now available to order from Kraftin' Kimmie Stamps in Canada or in the UK/Europe from Quixotic Paperie! **
You should have hopped over here from ANGIE'S BLOG.
On my card I have used another of the fun new gnomes from the Emilie Goulet sets!  LOVE these.  I actually had a more exciting card planned for today, but life got in the way so watch this space for something a little more gnome-tastic in the near future!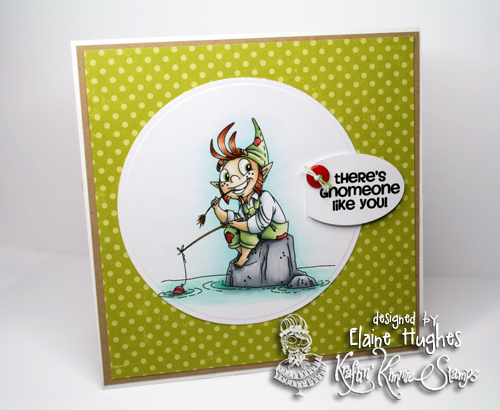 The image was coloured using ShinHan Touch Twin markers on Make it Colour Blending Card (I will edit in colour maps later on for those who are interested). Button from stash.  Paper is from my box of scraps.
That's all from me!  Hope you're enjoying this fantastic hop, and your next stop is the awesome MELANIE'S BLOG.