Hi folks!  I hope you all had a lovely Easter weekend.  Here in Dorset we stayed at home, caught up on some neglected chores, did a little more spring-cleaning and reorganising and generally relaxed.  A lovely peaceful weekend.  I'm not that sure that I am ready for normality to resume tomorrow, especially since it looks like it will be a busy day of packing orders!  I also need to find some time to upload some lovely new products to Quixotic Paperie, so watch out for new additions tomorrow evening.
You may have noticed recently that I have slowly cut down on a lot of my Design Team commitments.  Last year was crazy, and I need a little room to breathe!  I'm hoping that in the coming months I will be able to share more varied and creative projects as a result of shedding obligations and learning to say "no" (even when I really would love to join in with something).  Today I have the first fun "just for me" project to share!
Some of you may be aware that I have a stash of Magnolia Stamps products.  They were one of my first stamp obsessions, and although I haven't inked any up for quite some time, I still have difficulty resisting them.  With my recent spring-cleaning/reorganisation efforts I have rediscovered my stamps and made them easier to access, so you will be seeing some Magnolia Stamps creations here and there (I'll be sharing the new crafty organisation efforts in a post soon).
As much as I love to create them, I don't actually send a lot of cards, or rather I don't send a lot of cards to people who would appreciate most of the Magnolia Stamps images.  Sad but true!  So, since I love them and particularly love to create little scenes with them, I decided to create a fun keepsake project just for me.  When I rediscovered a SMASH journal I bought a few months ago, I decided this would be perfect as a book to house my Magnolia Stamps scenes.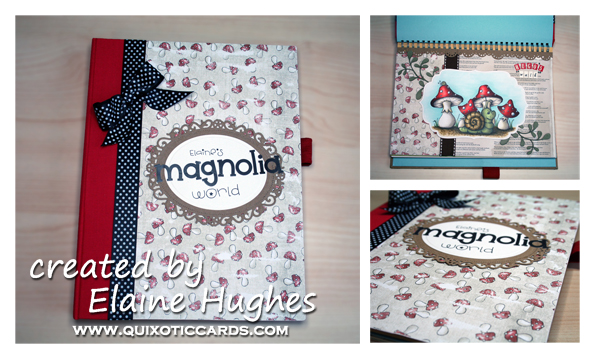 The journal is also a perfect way to use the Magnolia Stamps papers I have been hoarding.  I hoard them because I love them, so what better way to use them than on a project for myself?
The scene was created using a couple of my favourite stamps – Hugo the Snail and Mushrooms with Snail – I have a few odd little obsessions, snail and mushroom/toadstool images happen to be among them.  I stamped the scene using Memento Tuxedo Black ink on Make it Colour Blending Card and coloured with ShinHan Touch Twin Brush Markers (details below).  Then I cut the scene out using a Spellbinders Grand Labels Four Nestabilities die.
The papers are Magnolia, and the lace border is a Magnolia DooHickey Die.  I embellished the page with another favourite – Make it Crafty Lasercut Chipboard (coloured with a ShinHan Touch Twin marker), and also some stickers from an Echo Park kit.
Colouring Info:
As mentioned above, I coloured the scene with ShinHan Touch Twin Brush Markers on my favourite paper for colouring with alcohol based markers – Make it Colour Blending Card.  I love the Make it Colour cardstock because it stands up to a lot of layering and blending.  Those tricky reds are less problematic for me than on other papers I have used, and so this scene was a joy to colour rather than frustrating.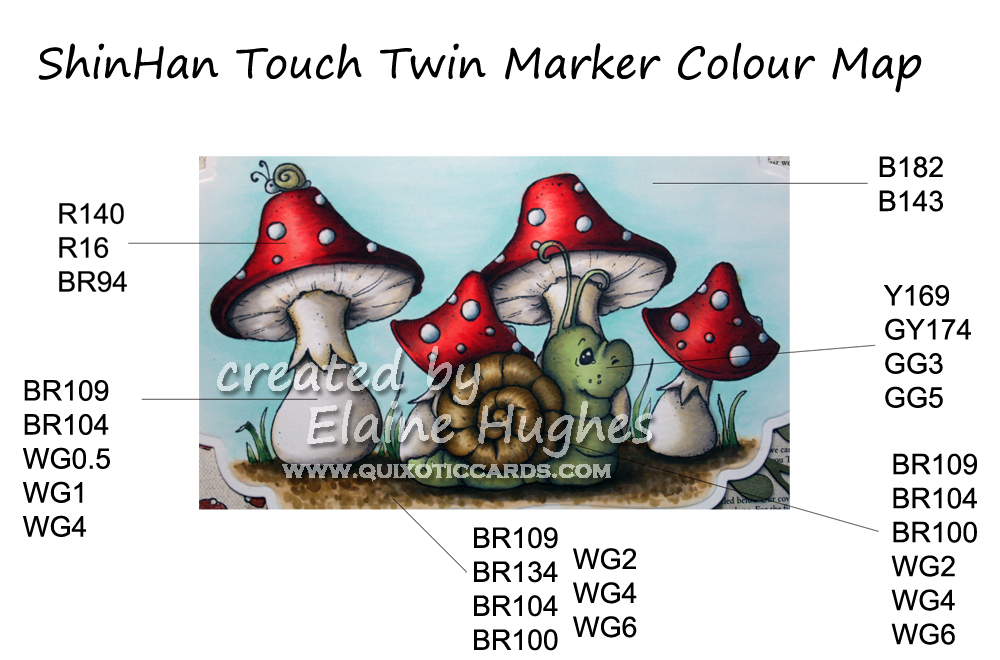 I am really thrilled that colouring and crafting are once again becoming a form of therapy for me, rather than a source of stress!  It's the way it should be, and I highly recommend it. Thoroughly looking forward to sharing more Magnolia scenes and other fun!