Time for the Kraftin' Kimmie Stamps release day hop!  This week we've shared previews of all the new stamps from Annie Rodrigue, Emilie Goulet and Cheryl Alger and now they are all available to buy!
** The new stamps will be available to order on Sunday 22nd April from Kraftin' Kimmie Stamps in Canada (now!) or in the UK/Europe from Quixotic Paperie (after 9am GMT)! **
You can see the full hop list over on the Kraftin' Kimmie Stamps blog if you are just joining us or if you are lost!  If you are already on the hop you should have hopped over here from ALICE'S BLOG.
As you know if you read yesterday's post, I love the Wizard of Oz, so choosing the stamps to use for today's card was a no-brainer!  I have used two of Annie Rodrigue's new stamps – Scarecrow and Tin-Man.  This would be a fun friendship card or maybe a "just because" or birthday card for a Wizard of Oz fan.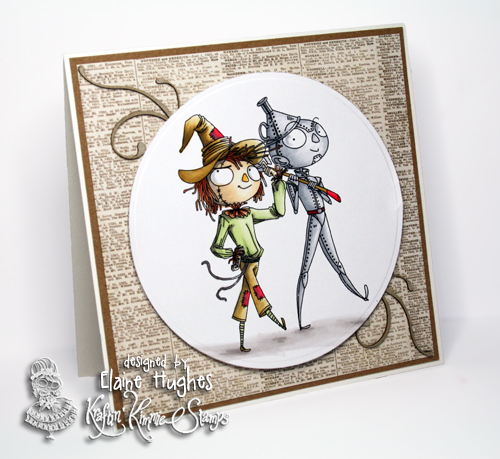 The image was coloured using ShinHan Touch Twin markers on Make it Colour Blending Card. The designer paper is from the Echo Park For the Record pad, and the flourishes are Make it Crafty Lasercut Chipboard.
That's it from me!  Your next stop on the hop is Krafty Guest PEGGY'S BLOG.