The hop is now over and the prize draws have closed.  The winner of my giveaway was Leanne!
If you're already on today's Make it Crafty Release Hop you should have hopped over here from SANDIE'S BLOG.  If not, pop on over to ALYCE'S BLOG and get started!
Today I can share one of the projects I mentioned in my last post!  Hooray!  The project I'm sharing today has been a welcome distraction while I battle with Project Get Organised and Project Clearout, as I'm sure you can imagine. 
I am thrilled to be joining in the Make it Crafty hop today.  Thanks for having me girls! When Zoe emailed me with the details, I was just a little bit excited.  A brand new artist joining the already awesome Make it Crafty team, AND an underwater themed release. HELLO!  Needless to say, today's project won't be the only one you see from me with the new images – there's a dolphin scene in there with my name all over it!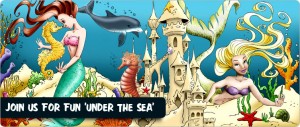 Another reason for my excitement was that this release provided the perfect opportunity to play with a technique I'd read about late last year, but simply didn't have the time to try out.  So, thanks Zoe!  I enjoyed a very fun evening getting messy, exploring a new technique and using some of the much neglected products in my stash. 
I found this technique to create a cool underwater effect in a book I bought last year, which features Copic Markers, but I simply used my ShinHan Touch Twin Markers, and you could use whichever brand of alcohol based marker you prefer!  Some will produce better results than others, but the principles are the same.  I printed my image on my favourite colouring cardstock – Make it Colour Blending Card, which definitely passed with flying colours during this colouring session!
For the people on the Touch Twin Markers & More FaceBook page who wondered whether anyone actually uses the chisel end of markers – this is just one of the instances in which they come in very handy indeed!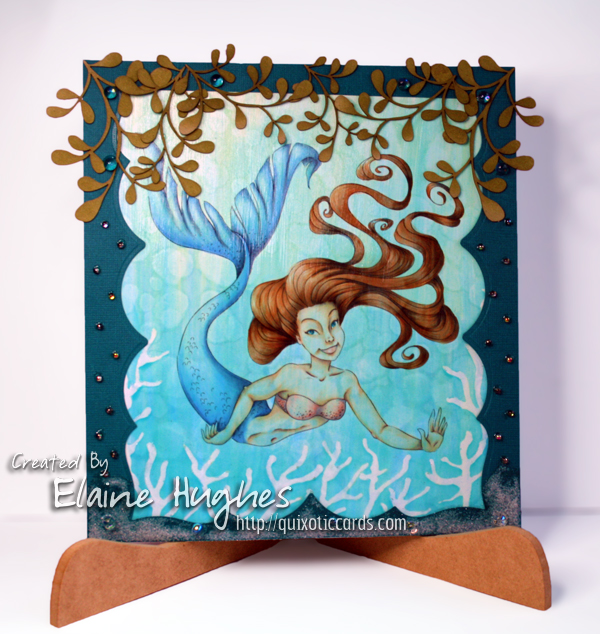 After printing the mermaid digi (changing the transparency so that it printed out with slightly less bold lines), I covered the whole image with three markers GY166, BG179, PB185, working from top to bottom and starting with my lightest marker.  At this point it doesn't matter if the lines are sketchy and messy.  Then, using a pipette, I sprinkled Isopropyl Alcohol (you could also use colourless blender) over the whole piece, creating a bubble effect.  Then, once it had all dried, I started working on colouring the image (full colour list below).  After colouring the whole image, I used Masking Fluid to create some coral shapes at the bottom, allowed that to dry and then painted over the entire piece with Liquitex Glazing Medium mixed with some Golden Fluid Acrylic in Cobalt Teal.  PHEW!  Here's a close up pic that shows the effect beautifully: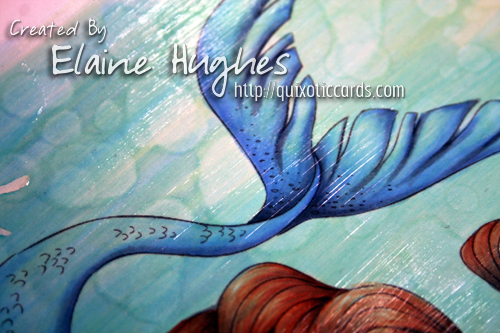 The technique I used can be found in this book: UK READERS: Shojo Wonder Manga Art School: Create Your Own Cool Characters and Costumes with Markers
US READERS: Shojo Wonder Manga Art School: Create Your Own Cool Characters and Costumes with Markers
.
To save any further waffle, here's a full supplies list!
Make it Crafty – Mermaid Lola Digi
Make it Colour Blending Card, Spellbinders Grand Nestabilities Labels 23, Microbeads, Glass Bubbles, Make it Crafty Lasercut Chipboard.  Core'dinations cardstock. Golden Fluid Acrylic – Cobalt Teal, Liquitex Glazing Medium, Isopropyl Alcohol or Colourless Blender Solution. Distress Ink Pad – Peeled Paint (used on the chipboard leaves).
ShinHan Touch Twin Markers used: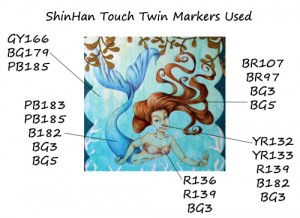 Sea background: GY166, BG179, PB185  Skintones: YR132, YR133, R139, B182, BG3 Eyes: B63, B67 Tail: PB183, PB185, BG3, BG5, B182 Hair: BR107, BR97, BG3, BG5 Top: R136, R139, BG3
** ALERT: GIVEAWAY!! **
Well done for bearing with me this far!  As a reward (haha!) I am giving away the gorgeous Mermaid Lola digital image I used in my project.  All you have to do is  leave me a comment on this post and a winner will be announced on Monday 7th May! 
You can win more fantastic prizes by commenting on the other blogs in today's hop, PLUS there are THREE Prizes up for grabs for commenters over at the Make it Crafty Store Blog.  The hop finishes on Sunday 6th May and winners will all be announced on Monday 7th May. 
MORE CANDY! If you check out THIS POST Zoe has another awesome prize pack up for grabs, available to people who subscribe to the blog via email.  Make sure you don't miss out!
Your next stop on this fabulous hop is TRACY'S BLOG and I know she has something gorgeous to show you!
Full Hop List
Alyce – http://kitandclowder.blogspot.com/
Julie – http://www.stampwithjulie.com/
Delphine – http://delphinesplace.blogspot.com/
Barbara – http://forgottenscraps.blogspot.com.au/
Sandie – http://sandieshores.blogspot.com/
Elaine – special guest – http://quixoticcards.com/blog/
Tracy P – http://crafteezee.blogspot.com.au/
Debbie – http://www.debbiepsplace.blogspot.com/
Jane – http://janesboxofcolours.blogspot.com/
Zoe – http://makeitcrafty.com/crafts-blog/zoes-blog
Store Blog – http://www.makeitcrafty.com/store-blog/category/featured-products