It's krafty release day at Kraftin' Kimmie Stamps!!!  And we're celebrating with a KRAFTY HOP!  There are so many incredible new stamps to see this month and we've put them all together in a fabulous showcase JUST FOR YOU!
Over the last few days in our Krafty Peeks, we have shared lots of AWESOME new stamps from all our artists!  Lulu is back from Cheryl Alger…..we know how much you love her!  We also have an adorable set of toddlers having a celebration from Emilie Goulet called BIRTHDAY BUDDIES!  And of course we have a GLAMOROUS new set of six OLD HOLLYWOOD stamps from Annie Rodrigue! OH and don't forget the newest set in our BRAND NEW line of stamps called BIRTHDAY TRINKETS by the lovely Nicole Aspinall!!!
You will get to see most of the new images today as you sit back and enjoy our JULY Krafty Hop!  If you want to start from the beginning, just head over to the Kraftin' Kimmie Challenge Blog! As you hop from blog to blog, be sure to leave a comment at each and every stop because some lucky stampers will win packages of these incredible stamps from the new release!!  And when you're done hoppin', be sure to head over to the Kraftin' Kimmie shop, because ALL the new images are NOW available!
You should have hopped over here from the lovely MICHELE'S BLOG.
On my card today I have used another of Annie Rodrigues fab new images – Debbie.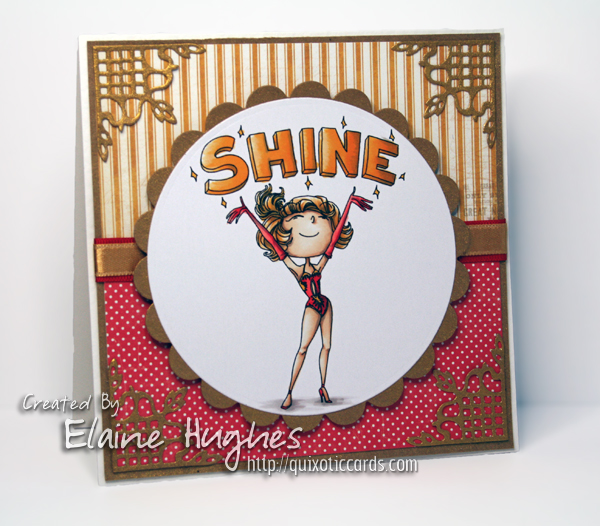 I used a mixture of My Mind's Eye papers and embellished with more of the gorgeous Dies by SCACD corners.  Ribbon is from my stash.
The image was of course coloured with ShinHan Touch Twin markers on Make it Colour Blending Card.
Your next stop on this hop is the fabulous CHERYL'S BLOG!