Thus far, the week has been trying to say the least.  Car problems, family health issues, general annoyances… Why does it all seem to crop up at this time of year?  At this rate I'll be completely out of energy by Christmas.
Anyway!  I've got a fun card to share today.  I actually coloured the images for this one around this time last year!  Last October/November/December were at least as crazy as this Autumn is proving so far, so the images just never made it on to a card, that is, until now (and that's why you can see a small crease on the reindeer's head – hanging around in a drawer is hazardous).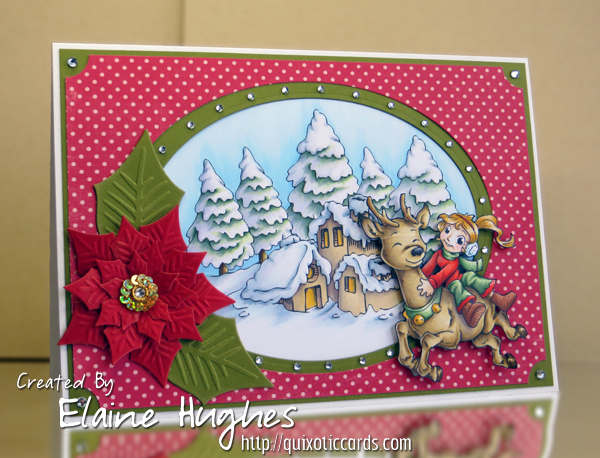 I chose to colour the little Whiff of Joy character on my card as an exercise to show how my colouring has changed.  I've had this particular stamp in my collection since 2008 I believe, and you will find the original card I created with her at the end of this post.  Pretty interesting to compare them.  I can definitely recommend this as a fun way to see how your style and technique have changed/improved over time.
When I coloured this up last year, I used Make it Crafty digital images for the background.  I'm very happy to say that these images are now available in rubber!  Zoe has released a set of Winter Background images, which will be perfect for creating all sorts of winter scenes for your character stamps.  I have them in stock right now in the Make it Crafty section over at Quixotic Paperie here in the UK both as individual stamps and as a great value collection sheet.
I stamped the Whiff of Joy image with Memento Tuxedo Black ink on Make it Colour Blending Card and coloured with ShinHan Touch Twin Markers. As you can see, I also gave that Spellbinders Layered Poinsettia die a bit more of a work out.
So, here's my original Whiff of Joy card from 2008, coloured with Copic Markers, probably on Neenah cardstock.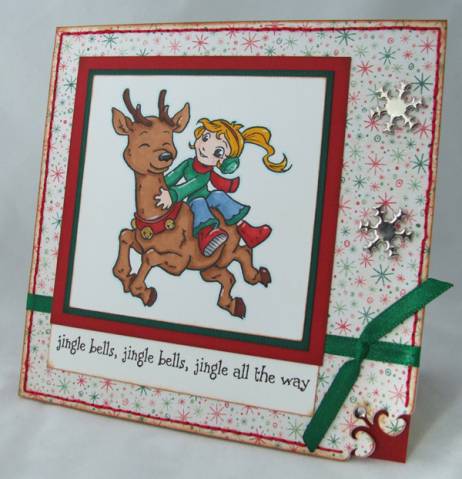 Bit of a difference, right?!  I actually still quite like the style of colouring in the older card.  Sometimes the flat style of colouring can be quite effective, especially on cartoon style characters.
That's it for now, thank you so much for stopping by!  Let me know if you try this little exercise out yourself, I'd love to check out your results.
  I may even have to try this again, since I'm sure my colouring has changed a little more over the past year!
*********************************************************
QUIXOTIC PAPERIE NEW ARRIVALS: