It's a bit wet and windy here in Dorset at the moment and I'm on the hunt for a new coat and some boots.  I do love Autumn.  Still feeling a bit achy, but I'm getting there. Definitely less stressed than I was last week.  Lots of colouring and Netflix, which at least means I'm not behind with DT work!  I'm finally learning to get things done in advance, rather than at the last minute, which can only help with the stress levels, right?
You may have heard that there is a new Stamping Bella release.  Em finally stopped teasing us and released the stamps yesterday.  I joined in with the refreshathon as there were plenty of images I hadn't seen.  Fantastic!  Totally in love with the new Uptown Girls, of course, and the adorable Ramona and Mister Penguin (so squishable).  I've already got some plans for a few of the stamps, so watch this space.
You can grab all of the new release over at Stamping Bella right now, with a 15% discount using the code provided in >this post<!  And yes, those of you in the UK/Europe who have been asking – the stamps are on order for Quixotic Paperie - just listen carefully for my squeals of delight to find out when they have arrived.

I already posted a card featuring one of the new Uptownies – Bianca and Her Big Cake (of course Em originally told me her name was Beverly…but I think Bianca works well too!).  I also got to play with another over the weekend, so I'd like to introduce…
WINONA LOVES WINTER!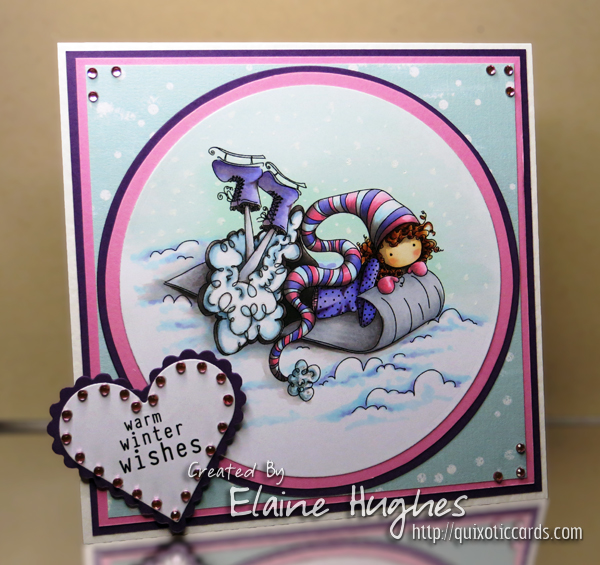 I stamped the image with Memento Tuxedo Black ink on Make it Colour Blending Card and coloured with ShinHan Touch Twin Markers.  I cut out the heart and scalloped heart layer with Spellbinders Nestabilities, and accented with some little pink gems.  The designer paper is an older release from Magnolia.
Have you noticed that I'm in a purple phase?  Well, I hope you're liking it, because I'm not done with it yet…watch this space for more purpliciousness.