Before Christmas I found myself hopping around various blogs.  I am a closet Stampotique fan so I was looking at their blog and the work of their designers.  One in particular caught my eye – the lovely and extremely talented Maria aka Lollyrot.  Not only does she create fantastic cards and other crafty projects, but she has illustrated a collection of stamps for Stampotique and has her own digital stamp line.  Needless to say, when I saw the digi stamps, I squealed in delight and grabbed them all. 😉
You can see Maria's scrapbooking blog HERE. Her illustration blog is HERE. The digi stamps can be found HERE.
I finally found time after Christmas to colour in one of the digital stamps – Lollyrot.  I took photos with my smartphone at various stages to show the work in progress, and shared them on Facebook. For those of you that missed them, I have added a gallery at the bottom of this post for you to browse.  Please bear in mind, the photos were taken with a phone camera in variable lighting, this is not a formal step by step, the photos were snapped for fun.
The Card:
I spent some time over the past weekend turning some of my stack of coloured images into cards.  Lollyrot was one of them, and here is the finished card: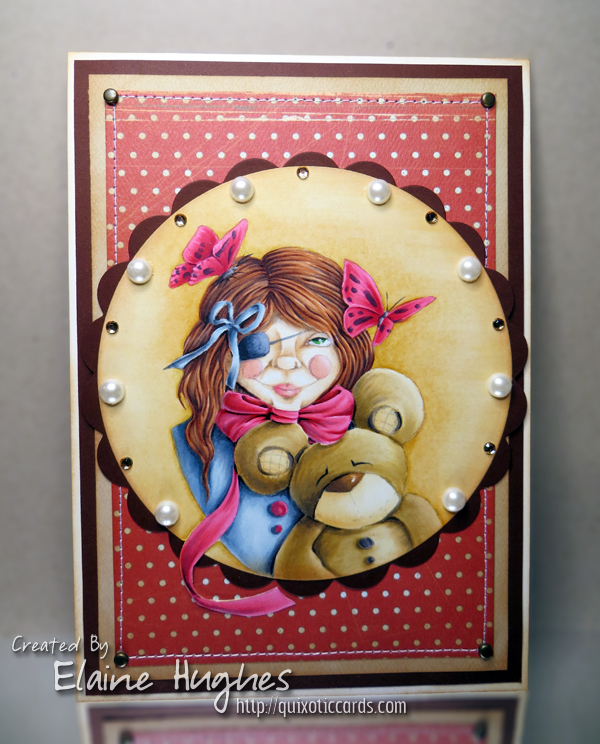 The image has so much character and is just the right blend of cute and quirky for my taste.  I had a lot of fun colouring this one, I hope you can tell!
I printed the image at 10% opacity on Make it Colour Blending Card and coloured with ShinHan Touch Twin Markers (details below).  The image was cut out using Spellbinders Grand Circle Nestabilities and I used the "out of the box" technique to pop the tail of the bow out.  Embellished with some flatback pearls and gems.  The papers are from an old Crate Paper pack – I love the soft textures their papers used to have.  I stitched the main layers and embellished with a brad in each corner.  The papers were all inked with Distress Ink in Tea Dye.
Marker Details: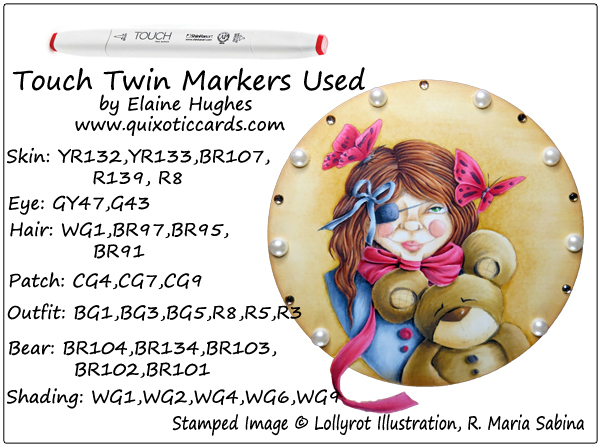 Step by Step Photos:
That's it!  I hope you enjoyed checking out my card and the additional colouring images.  Thank you for stopping by.