Have you been following along with the previews this week from Kraftin' Kimmie Stamps?  Unfortunately I didn't have time to join in for all of the preview days (much as I would have liked to), but the rest of the Krafty Girls have been showing off some awesome inspiration with all the new stamps!
Today we're showcasing the latest Moonlight Whispers releases by Annie Rodrigue, and they are a LOT of FUN!  This month Annie has gone all NERDY, which of course totally speaks to me. 😉
Make sure you visit all the Krafty Girl blogs for today's preview (see Inlinkz list at the bottom of this post) and leave a comment on each, as you could win some of the new stamps being released!
PLUS if you join in with the challenge this week using a Kraftin' Kimmie Stamps image, you could win the stamp featured on this week's hostess' project.  The challenge this week is nice and easy – ANYTHING GOES!  Check out the challenge blog HERE.
One of my personal goals this year is to take more photos and to do more with those photos.  I also want to document things.  I'm not really one for scrapbooking in the embellished, flowery sense (although I have been known to oooh and aaah over other people's work), so Project Life is ideal for me.  I won't be doing a formal daily/weekly spread, I'll be doing something more casual that fits me, which is what Project Life is all about.
The new stamp GAMER GIRL was ideal for one of my "About Me" spreads, which I am currently working on.  I am (and have always been) a gamer.  I play video games and I also play fantasy board games.
Isn't she awesome?  LOVE.  She was pretty quick to colour too, as I kept things fairly simple.
I stamped the image and sentiment with Memento Tuxedo Black ink on Make it Colour Blending Card and coloured with ShinHan Touch Twin Markers.  I embellished with MFT Die-Namics Photo Corners die cuts.
Here she is with the Project Life spread I'm working on: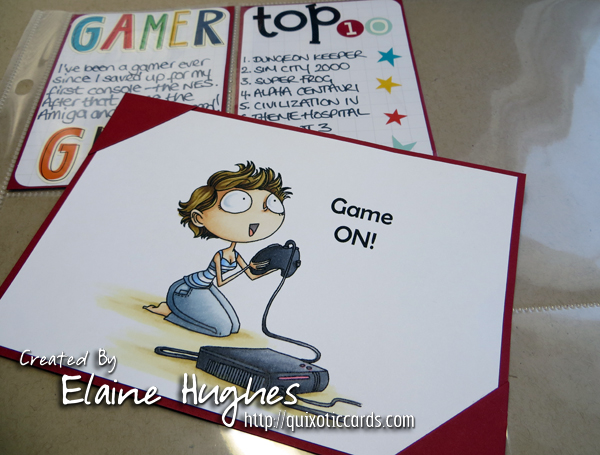 I think I'm going to have a lot of fun embellishing my Project Life pages with coloured images this year!
FUN RELEASE NEWS: tonight we're having the first ever Kraftin' Kimmie Stamps RELEASE PARTY!  It will take place on the Kraftin' Kimmie Stamps Facebook page and you're all invited!  All the fun starts at 6pm EST, and you'll get to hang out and chat with the Krafty Girls.  I'm hoping to stay awake long enough to join in (I'm feeling a little better today), so hopefully I will see you there.
INLINKZ LIST FOR HOPPING: Click the blue frog to see the list!