Well, another week has whizzed on by.  As usual I'm in a complete daze, wondering where the time went and why I haven't quite achieved everything I intended.  C'est la vie!
Today I am thrilled to be helping showcase the latest release from SCACD's Susana Loves Stamps range.  This month Susana has a brilliant new mixed media collection for you, building on the original release (recently featured in Craft Stamper Magazine – February 2013 issue) to take you on new creative adventures!  Mix and match and use a variety of techniques to grace cards/papercrafting projects as well as altered canvases and other mixed media projects.
I've been tiptoeing around mixed media/art journaling/etc for a while, as you may know if you're a regular reader – I've referred to it from time to time.  Mostly I've been admiring other people's work, because oh my, there are some talented people out there creating a wide array of mixed media projects.
I'm starting to make time to jump in and be brave and have some inky painty fun.  Today's tag is the result of a very fun session with stamps, paints, papers, Frantage, inks and of course my ShinHan Touch Twin markers.  Be warned, inky painty fun really brings out my WEIRD, and I have plenty of weird to go around. 😉
On my tag I have used the awesome heart stamp from the "Follow Your True Heart" set.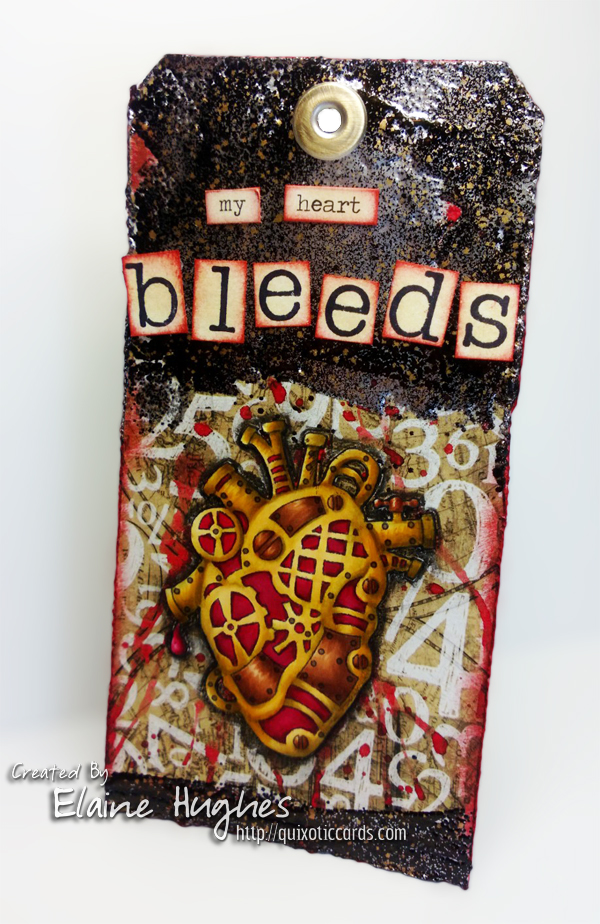 I stamped the image with Memento Tuxedo Black ink on
Make it Colour Blending Card
and coloured with ShinHan Touch Twin Markers., before cutting out ready to stick on my tag.
On the tag I used a sheet from the Prima Marketing Inc Engraver 6×6 pad (LOVE), which I liberally distressed with Frantage embossing enamel, a pair of scissors and distress ink.  I also created "blood" splatters by flicking Adirondack ink on to the tag.  After sticking my heart image on the tag, I outlined it with a charcoal pencil to help it stand out from the background.
That's it!  The new stamps and some beautiful new Dies by SCACD dies are now available here in the UK at Quixotic Paperie and in the US at Susana's Custom Art and Card Design!  Here are the links:
Finally here's the hop list for you!  Make sure you take a look at all the designer's blogs today, I know they each have something inspiring to show you!