As you may have seen recently in my "Something Different – Angels" post, I have started working in a Moleskine sketchbook as a way to take some creative "me time" and play with the supplies I have collected. Today I'd like to share another spread from my journal, although I should warn you first, I'm letting my "weird" show! If you're looking for cute or pretty, run away now and come back another day. 😉
Normally, I avoid clowns like the plague, probably because from a young age, I have been a fan of horror.  That or clowns are just creepy. Either way, normally I would tiptoe quietly away from a clown stamp.  Then I saw the Tim Holtz "The Big Top" stamp set from Stampers Anonymous.  I'm not sure how I missed it before, but it is deliciously hideous. To me, at least. I instantly knew what I wanted to do with it.
You might guess from this that I'm a fan of Stephen King's work. I read "It" when I was eleven or twelve years old.  I was hooked. So, there's a lot going on with this spread for me personally. I like to explore the dark even if that sometimes means running in to clowns.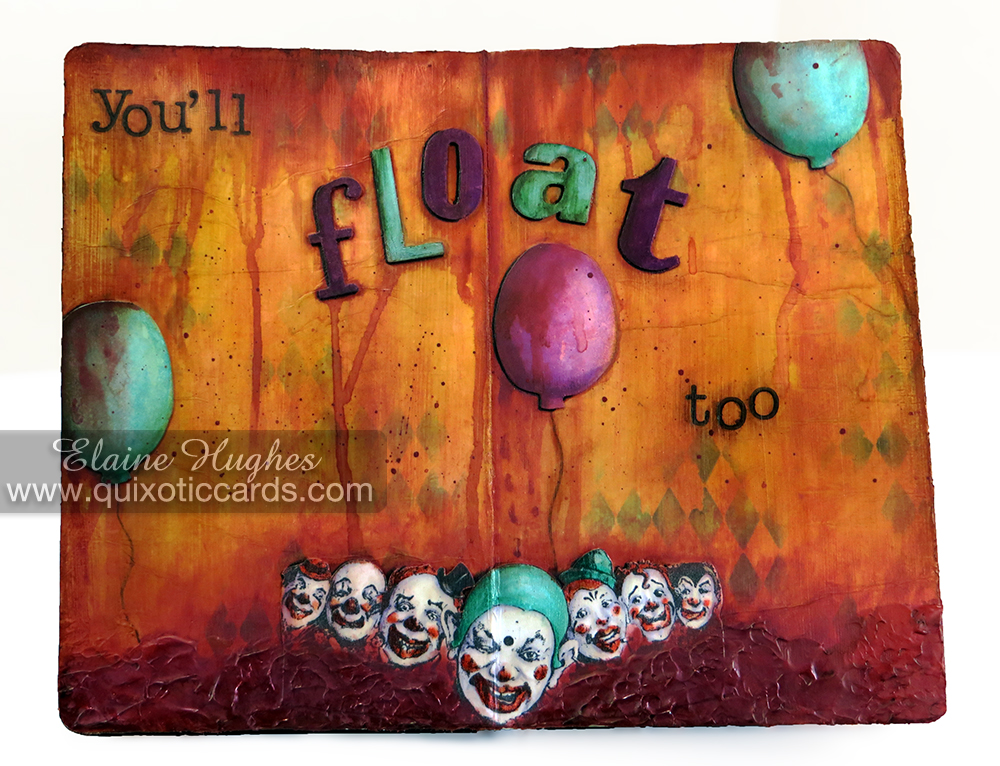 Supplies used:
Tim Holtz Stampers Anonymous – The Big Top stamp set – stamped on Bristol Board and coloured with Copic Markers.
Gel medium (matt) – used to glue a layer of tissue paper to the pages, and then to layer and seal, and adhere the image and die-cut letters. Also used to create texture at the bottom of the page.
Tim Holtz Distress Ink – Vintage Photo – used over the tissue paper to lay down a base colour, also used during layering to build colour.
Tim Holtz Layering Stencil "Harlequin" – added some background layering with Archival Ink – Cornflower Blue.
Tim Holtz Sizzix Alterations "Word Play" die – die cut letters for the word "float" from grunge board.
Tim Holtz Distress Paint "Aged Mahogany" – used to create the blood effects, on top of the gel medium at the bottom of the page, splattered with a brush over the page and also with water to drip down the page from the top.
Luminarte Silks "African Jade", "Forest Moss", "Wine & Roses", "Fire Opal" – used to add colour to hand cut balloons, die-cut letters and on certain details of the image.
Faber-Castell PITT pens and Big Brush pens – used to add shading.