This was always going to be a difficult day. If you've been following my blog for a while, you will know that my Dad passed away last October. Today is the anniversary. 17th October 2013 seems both so far away and also like it happened yesterday. The past year has been a difficult one, bringing lots of challenges to deal with and also many opportunities to move forward. I like to think that Dad would be happy to see us getting on with it and moving forward.
With that in mind, I'm going to share a card I made yesterday and some colouring information I put together to go with it.
I often refer to colouring as therapy, and I say that with complete sincerity. Yesterday evening I sat and coloured bunnies over and over and it helped. It might sound silly, but I promise you, if it helps you get through the day it is anything but. I especially wanted to share today, because I believe Dad would be happy to see me doing what makes me happy, and because I wanted to share the message on this card with anyone who is having a tough time. It may not feel like it right now, but Pinky Promise. It's gonna be alright. Consider this card a virtual hug from me.
The Card: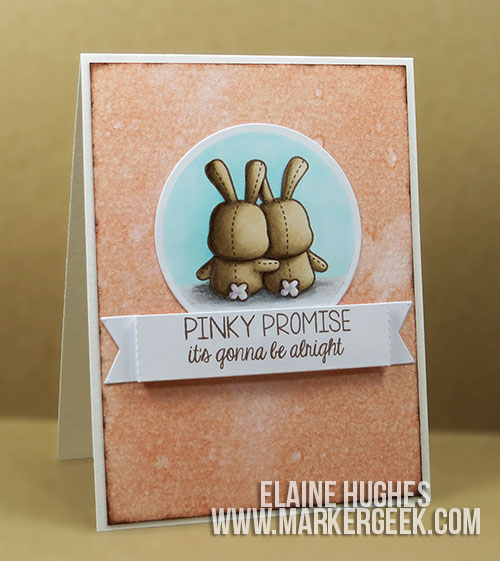 Such a sweet image, and I love that sentiment.
The Details:
I stamped the bunnies with Memento Rich Cocoa ink on my favourite Make it Colour Blending Card before colouring them using Copic markers. I actually tried out a few different shades of ink before settling on Rich Cocoa. I scanned in my experiments to share with you, and you will find them below along a Copic Colour Palette showing the marker colours I used.
Stamps used: Mama Elephant – Honey Bunny stamp set, Mama Elephant – True Friend stamp set
For my UK/European readers, you can find Mama Elephant stamps and dies in my lovely friend Tara's online store: Make the Day Special.
The background was created using Distress Inks and water on Tim Holtz Distress Watercolor Cardstock. I also sponged a little Memento Rich Cocoa ink along the edges to finish it off.
I die cut the banner using the Mama Elephant Bold Banner die and stamped the sentiment using Memento Rich Cocoa ink. The image was die-cut using a Spellbinders Nestabilities circle die.
The card is approximately A6 in size.
I'm entering this in the October Mama Elephant and Me challenge which is "Anything Goes".

Ink Comparison:
Marker Colour Palette: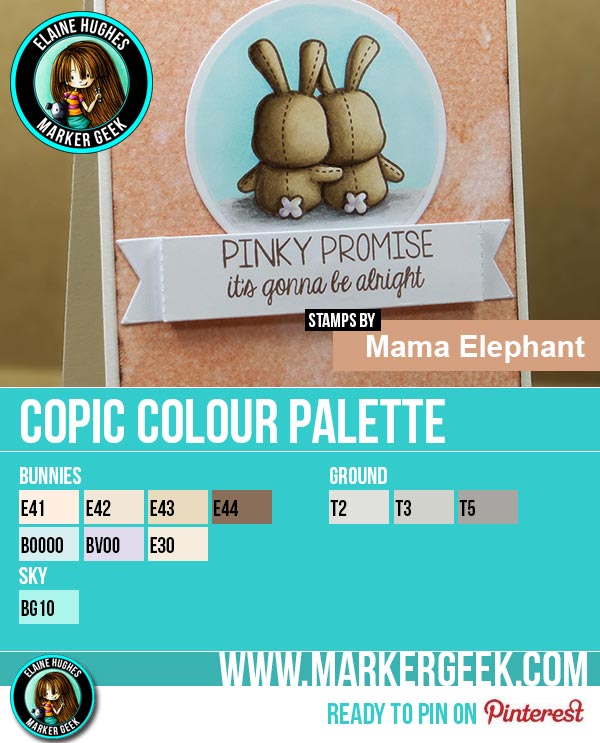 Thanks for stopping by!
I hope you have enjoyed today's post as much as I enjoyed creating it for you.
Don't want to miss out on future posts? Subscribe to my RSS feed in your favourite blog reader or subscribe via email using the form over in the sidebar.