As promised I'm back today with a couple of cute Christmas cards featuring the brand new Stamping Bella Uptown Girl Savannah has a Star stamp that I used on yesterday's card.
I really wanted to show a couple of different hair colour combos for Savannah today, so I didn't use the full image. If you've been visiting my blog for a while you may also be aware that I do have a fondness for butchering cropping Uptown Girl images. Muahaha! This is a great way to stretch the stamps and get more use out of them, especially at Christmas when colouring a full sized image can be more time consuming than you might like. To see the full Uptown Girl Savannah has a Star image please check out my Merry Christmas with Stamping Bella Uptown Girl Savannah post from yesterday.
The Cards: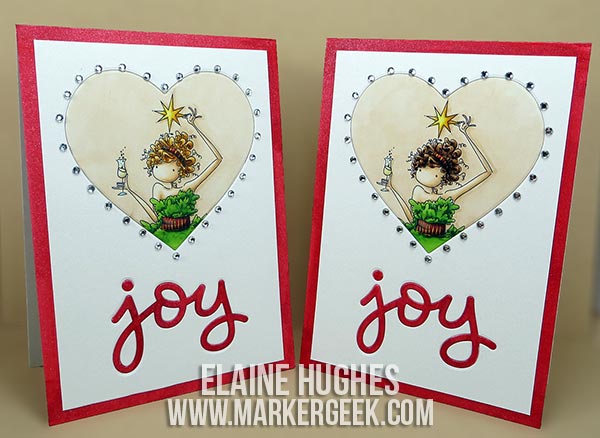 The Details:
I stamped Stamping Bella Uptown Girl Savannah using Memento Tuxedo Black Ink on my favourite Make it Colour Blending Card before colouring using Copic markers.
UK/European Readers: the latest Stamping Bella releases are available to order at Quixotic Paperie and are now IN STOCK!
US/Canadian Readers: pop on over to the brand spanking new Stamping Bella website. All orders are now shipped from the US.
These cards are approximately A6 (4.1″x5.8″)in size and are top folding. I score and fold my own card bases using a scoring board and bone folder.
I used the inlaid die-cutting technique which I picked up from the fantastic Jennifer McGuire. Love how something so simple gives such a nice clean look, and also makes a nice flat card for mailing which is perfect for Christmas cards! The dies I used are Memory Box Cupid Heart (#98281) and Lawn Fawn Scripty Joy Lawn Cut die (my friend Tara at Make the Day Special carries Lawn Fawn stamps and dies). I have a huge box of self adhesive gems/crystals to use up, so I embellished around the heart shape with small flat-back crystals.
Once again, because I am a recovered paper hoarder and purged most of my patterned papers (something I'll be talking about in a future blog post), I simply used pearlescent white cardstock for the die-cut layer and card base. I used my Copic markers and a Wink of Stella Clear Glitter Brush pen to colour the card base and die-cut sentiment and give them a little extra sparkle.
Copic Marker Hair Combos: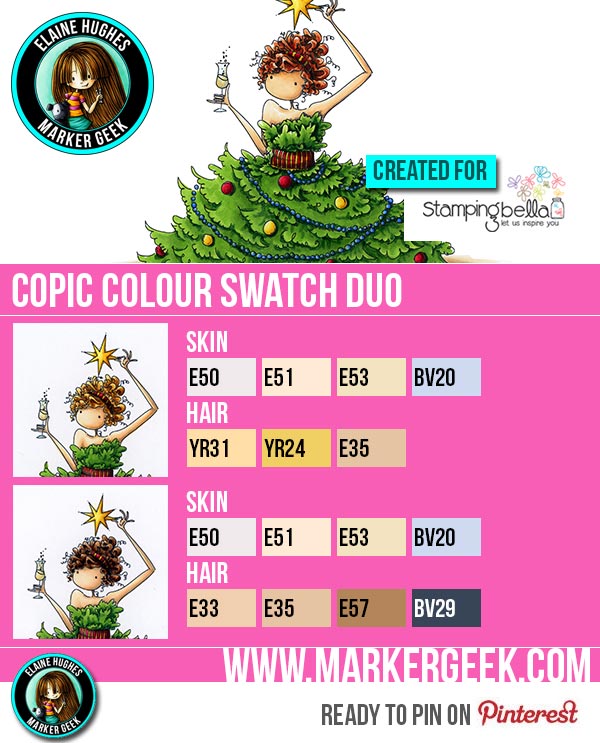 Thanks for stopping by!
I hope you have enjoyed today's post as much as I enjoyed creating it for you.
Don't want to miss out on future posts? Subscribe to my RSS feed in your favourite blog reader or subscribe via email using the form over in the sidebar.