It is no secret that I love colouring hair. It is one of my favourite things to do. That said, I am a little out of practice, so to rectify that I turned to one of my favourite stamp artists for awesome hair: Krista Smith and her fantastic Saturated Canary images.  I need to get back into my hair "groove", so bear with me, but I filmed the colouring process so you can check out a speed colouring video. I have also provided a Copic Marker Colour Palette in the post, so read on!
If you'd like to check out previous Saturated Canary creations/colouring, click HERE.
The Card: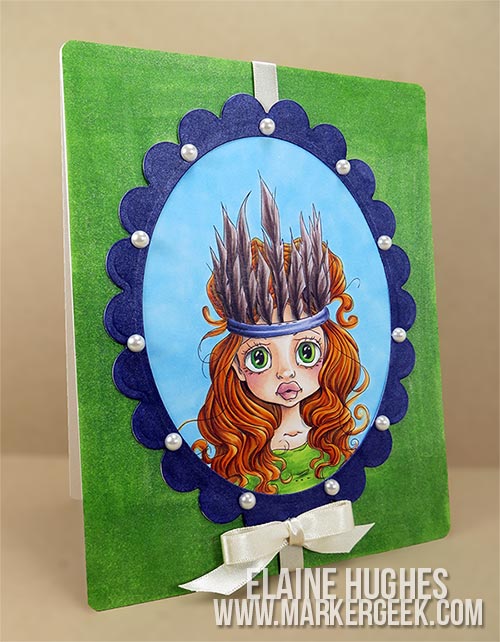 The Details:
I coloured Feather Crown with a similarly "loose" style to my last card featuring Make it Crafty's Aleisha. I say "loose" because it is a little looser than my usual style. 😉 I'm not thrilled with the hair, but I am fairly happy with the face and skin tones. Next time around I'd probably go a little deeper with the shading on the face.
Saturated Canary Feather Crown is a digital stamp available from Krista Smith's Saturated Canary Online Store.
I printed Feather Crown on my favourite Make it Colour Blending Card before colouring using Copic markers. Details on markers used are available below as a pinnable Copic Marker Colour Palette.
I framed Feather Crown using white pearlescent cardstock die cut with Spellbinders Grand Ovals and Grand Scalloped Ovals dies which I then coloured with a Copic Marker. I also coloured the card base with a Copic Marker followed by Wink of Stella Clear Glitter brush pen.
Copic Marker Colouring Video:
Copic Marker Colour Palette: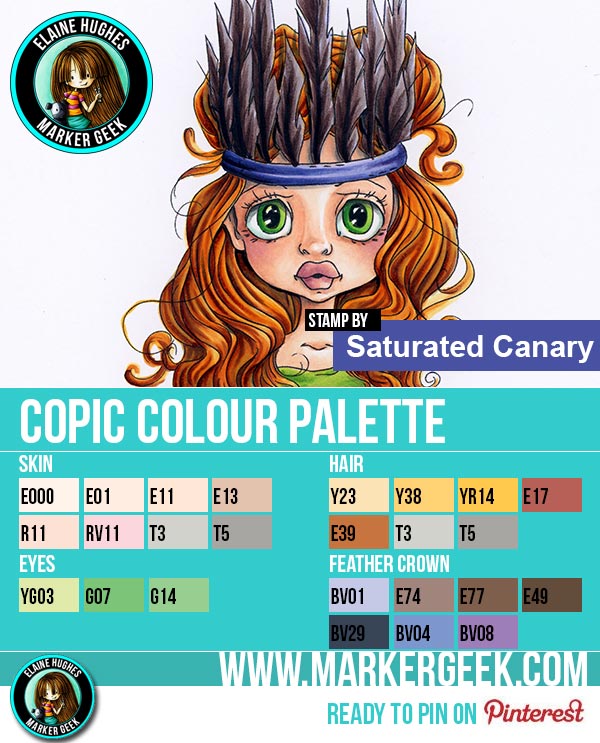 Thanks for stopping by!
I hope you have enjoyed today's post as much as I enjoyed creating it for you. Watch this space for some Winter/Christmas themed videos
Don't want to miss out on future posts? Subscribe to my RSS feed in your favourite blog reader or subscribe via email using the form over in the sidebar.