Right now I feel rather like I went to sleep one day in mid-February and woke up again in March. I sort of wish that is what actually happened. In reality I went to bed with a slight cough one night a couple of weeks ago and woke up the next morning feeling like the life had been drained from my body. Hello Flu!
Read on for some flu related whinging plus a fun little card featuring a Tim Holtz bird stamp and Copic colouring. A short colouring video and Copic Marker Colour Palette are also included.
Flu Related Whinging:
Flu is so very annoying. I had been happily colouring the previous day, thinking I was coming down with a cold and that if nothing else I'd at least get lots of colouring done. Hilarious. I spent almost all of that week in bed, my sanity tenuously preserved by the power of Netflix and three seasons of The Good Wife. Finally last Friday I felt well enough to sit and colour in celebration of my first headache free day that week. Talk about relieved…
I want my two weeks back! On the bright side, I am feeling much better this week and am resuming normal activities. Over the weekend I stamped, coloured and did a little reorganising/clearing out.
Blog-wise I have been set back somewhat by the unexpected two week "break", but I do have lots of fun stuff in the works. I have lots of unedited video footage and lots of cards ready to share, I just need to settle down to the necessary editing and blogging tasks. Bear with me!
The Card:
Here's a fun little card I created over the weekend, along with a little colouring video showing the colouring process and a Copic Marker Colour Palette with all the marker details for you!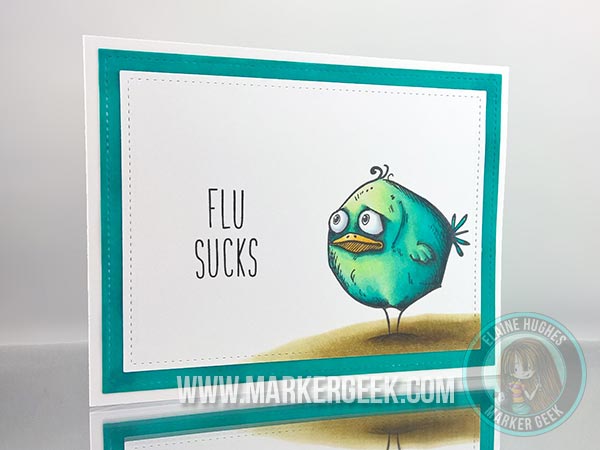 The colour combination I used for this image is one I noted down ages ago from Jennifer Dove's blog and am finally getting around to trying out. Jennifer has shared lots of Copic Marker colour combos via her Color of the Day tag posts over on her blog DoveArt Studios. Definitely worth checking out as Jennifer's colouring is awesome and she has shared some great marker combos.
The Details:
I stamped the funny little concerned bird from the Stampers Anonymous Tim Holtz Bird Crazy (CMS212) stamp set with Memento Tuxedo Black ink on my favourite Make it Colour Blending Card before colouring with Copic markers.
I die cut the image layer and a mat from white cardstock using the Lawn Fawn Stitched Rectangles Small and Large sets. The sentiment was stamped using my favourite Lawn Fawn Milo's ABCs alphabet stamp set. I usually purchase my Lawn Fawn dies and stamps from Tara at Make the Day Special here in the UK.
I coloured the mat layer with a Copic marker to coordinate with the image. See my Merry Christmas with Uptown Girl Savannah blog post for a simple step by step on how I do this (and yes, it is probably the simplest card making tip ever!).
Copic Colouring Video:
Watch the video below or watch it in HD on YouTube.
Copic Marker Colour Palette: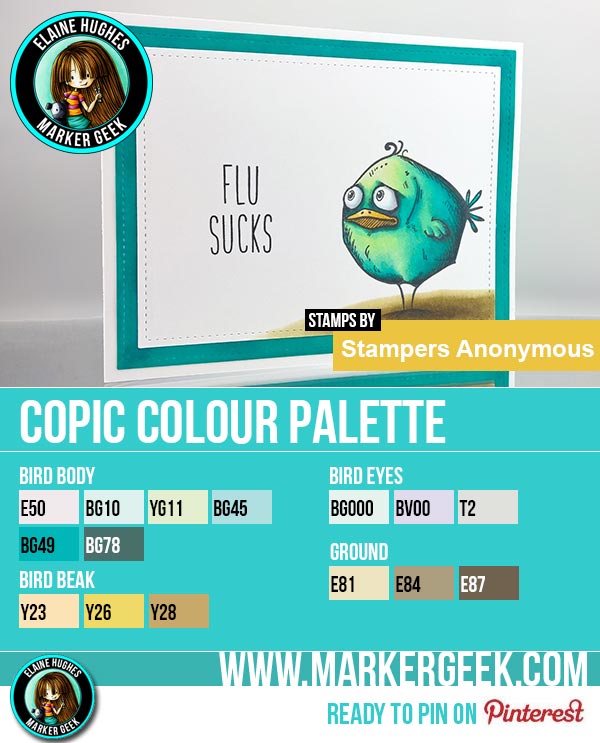 Thanks for stopping by!
I hope you have enjoyed today's post as much as I enjoyed creating it for you.
Don't want to miss out on future posts? Subscribe to my RSS feed in your favourite blog reader or subscribe via email using the form over in the sidebar