Click through for the latest instalment in my new blog feature – Colouring Book Therapy. Watch Part Two of my first colouring video of the Imagimorphia colouring book by Kerby Rosanes with Staedtler Ergosoft colouring pencils.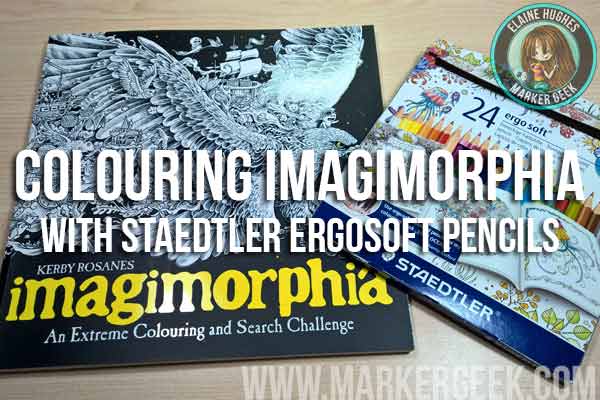 Colouring Book Therapy:
Follow me on Instagram for regular work in progress pics! I tend to share whatever I'm colouring over there, including stamped images and colouring book pages.
If you missed the first post in this new series click through to check it out: Colouring Book Therapy – Colouring Imagimorphia with Staedtler Ergosoft Part 1.
Imagimorphia Colouring Book by Kerby Rosanes:
As I mentioned last week I have been a fan of Kerby Rosanes' work for quite a while. I love his style, blending beautifully realistic and detailed imagery with cute and quirky doodles. His work is amazing, so much to see that you could lose yourself for hours. I love following his Instagram account @kerbyrosanes and catching a glimpse of his creative world. It helps that thematically he draws many of my favourite things from wild animals to popular media characters.
I find colouring the pages in Imagimorphia* US link * totally therapeutic. There is so much detail to get lost in, as well as some larger areas to play with. The artwork looks incredible in full colour, and there are some truly stunning finished pages online (search social media for #imagimorphia ).
I've set up a board over on Pinterest to collect some inspiration for this fantastic book. If we aren't already connected over there, click through to follow me on Pinterest. I have a number of boards relating to colouring.
Colouring the title page from Imagimorphia:
Here's a look at my first completed page in Imagimorphia*/ US link * !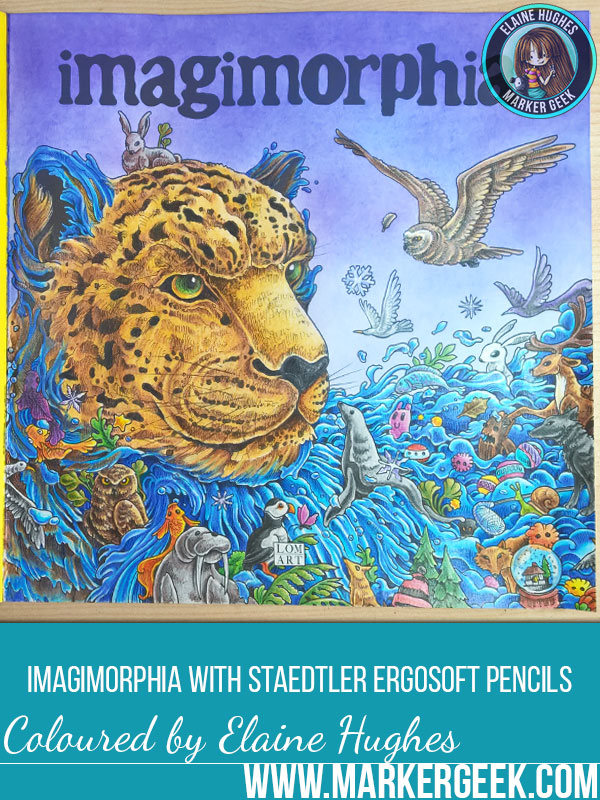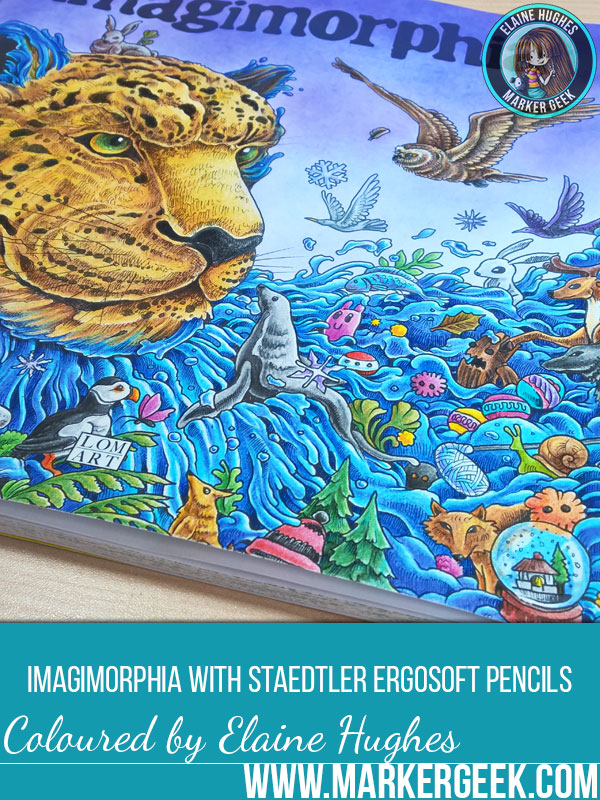 Watch the second part of the colouring process below or in HD over on YouTube!
Watch my flip-through video to take a look at the other pictures in this amazing book, and see if it is something you'd like to colour yourself!
Staedtler Ergosoft Pencils:
Click through and read last week's post for details on the Staedtler Ergosoft pencils*/US link*: Colouring Book Therapy – Colouring Imagimorphia with Staedtler Ergosoft Part 1.
I mentioned last week that I had some issues with breakage with a few of the pencils. I contacted Staedtler and they have asked me to send the pencils back to them (using a prepaid label) for replacement. My customer service experience with them has so far been excellent. When I receive replacement pencils I will post an update regarding the pencil quality and breakage issues!
Having finished the entire page with the Ergosoft pencils I can say that I still found them nice to work with, they lay down colour well and blend pretty nicely. I was able to achieve some decent vibrant colouring with them, even with the limited selection of colours.
Adult Colouring Book Videos:
You can find a number of videos showing how I colour over on my Marker Geek Youtube Channel. All of my Colouring Book Therapy videos will be collected into my Colouring Book Therapy Playlist.
Thanks for stopping by!
I hope you have enjoyed today's post as much as I enjoyed creating it for you.
Don't want to miss out on future posts? Subscribe to my RSS feed in your favourite blog reader or subscribe via email using the form over in the sidebar.
If you want to keep an eye on what I'm colouring on a daily(ish) basis, follow me over on Instagram where I share frequent peeks at the colouring I'm doing along with other day to day snaps.
Please note that in order to assist with the running of this blog I do use affiliate links from time to time and there may be some in this post, denoted with a *. Please see my About page for more information.