Read on to see how I coloured Stamping Bella Thinkingofyouabella with Zig Clean Color Real Brush pens.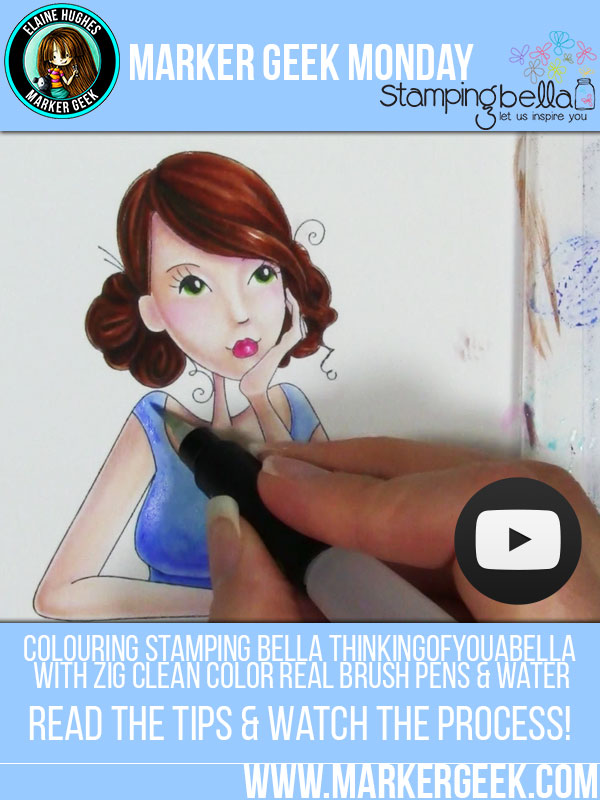 Marker Geek Monday:
It's Monday so that means it's Marker Geek Monday over on the Stamping Bella blog! Make sure you read both this post over here and the one on the Stamping Bella blog today, to get a good look at using the Zig Clean Color Real Brush Pens. Over on the Stamping Bella blog I've used the pens without water, while over here I've used them with water! Two totally different looks. There's a video included in this post, and there's another one over there. Double the colour, double the fun!
I hope you enjoy both posts and videos. I was completely out of my comfort zone with this, as you know my preferred medium is alcohol based markers. However when someone on Instagram requested to see a Stamping Bella image coloured with the Zig pens, I thought I'd play a little. Normally I save these pens for my adult colouring books, and had never used them to colour a character stamp, so colouring skin tones was a bit of an experiment to say the least! The two images over on my Stamping Bella Marker Geek Monday blog post were coloured using just the pens direct to the paper, no water, and I found that this resulted in quite dark skintones. If you're aiming for a lighter skin colour, you may need to use some water to help tone things down a tad.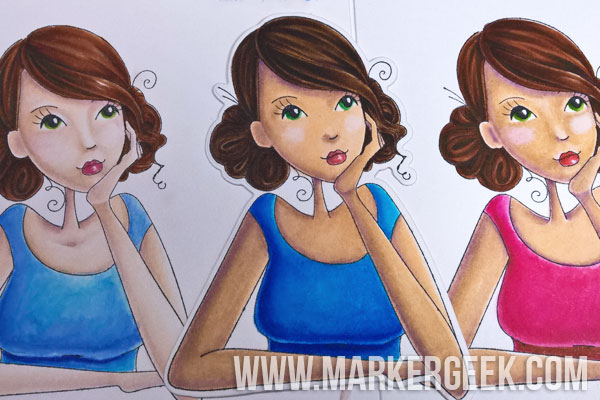 I chose to use Stamping Bella's Thinkingofyouabella for my colouring experimentation because she's such a great sized stamp for playing with skin tones and hair. You can also check out my recent Marker Geek Monday Copic Hair Colouring post over on the Stamping Bella blog, which features Thinkingofyouabella.
Zig Clean Color Real Brush Pens Info:
I purchased the 60 pc set of Zig Clean Color Real Brush pens * last year. There is a full 80 pc Zig Clean Colour set * with all the colours and you can also buy smaller sets and also individual pens.
The pens are filled with a waterbased dye ink and have a proper synthetic bristle tip as opposed to the foam nibs you often see. This bristle tip was the main attraction for me, as it allows you to fluidly create lines that go from thick to thin. As you may have noticed, I love to colour hair and so this is a really important feature for me! It also helps when trying to get into any detail areas.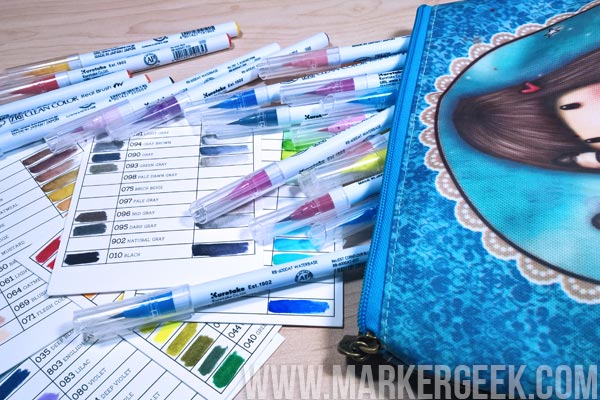 I store my pens in a large cosmetic pouch along with some colour swatches. I downloaded the swatch sheets from Jennifer McGuire's blog and printed them on a hot press water colour paper. These little charts have space to show both the marker ink as is and also the ink with water applied, to show how the colours behave with each type of application.
As I mentioned above, I mostly use these pens in my colouring books. They are easy to carry around when travelling and the ability to achieve some nice blending and colour variation using just the markers works really well for colouring books. Of course they work equally well for stamped images, so if you're someone that likes to stamp some images and colour on the go these are great for that. They aren't my "go to" medium, but they are one that I enjoy and find pleasant to use.
Watercolour with Zig Clean Color Real Brush Pens:
I stamped Thinkingofyouabella using Ranger Archival Ink in Jet Black on to Strathmore Bristol Board*, the same paper I used for the no water, direct to paper marker blending I used in my Marker Geek Monday version over on the Stamping Bella blog. This time however I coloured my image by applying the ink from the markers to an acrylic block (a convenient substitute for a palette) then using a water brush to apply the ink to the paper. The Strathmore Bristol Board held up well. I didn't flood the paper with water so as it is a nice heavy paper, I didn't have any trouble.
Here's the video of the process which you can watch below or in HD over on YouTube.
More Colouring Videos:
You can find a number of videos showing how I colour over on my Marker Geek Youtube Channel. All my Stamping Bella related videos can be found in a Stamping Bella Video Playlist.
Zig Clean Color Real Brush Pen Colour Map:
I created some Colour Maps for the image in this post and also for the images over on my Marker Geek Monday post.
Click through to my Marker Geek Monday post and you will find the other two over there!
Don't forget that if you purchase stamps from Stamping Bella, you will be able to obtain a free Copic Colour Map showing the colours used on the product images seen on the packaging and website (including the image seen on today's card). See HERE for details.
Thanks for stopping by!
I hope you have enjoyed today's post as much as I enjoyed creating it for you.
In case you haven't been following: I am keeping up with my #thedailymarker30day colouring and am still going strong with the videos. Click through to my #thedailymarker30day page to see everything in one handy location.
Don't want to miss out on future posts? Subscribe to my RSS feed in your favourite blog reader or subscribe via email using the form over in the sidebar.
If you want to keep an eye on what I'm colouring on a daily(ish) basis, follow me over on Instagram where I share frequent peeks at the colouring I'm doing along with other day to day snaps.
You can also follow me over on Pinterest for more inspiration!
Please note that in order to assist with the running of this blog I do use affiliate links from time to time and there may be some in this post, denoted with a *. Please see my About page for more information.