Read on for my latest colouring including a step by step guide to help you create quick easy texture using Copic Colourless Blender. Post includes a video and Copic Colour map. Featuring Stamping Bella's Hula Chick rubber stamp.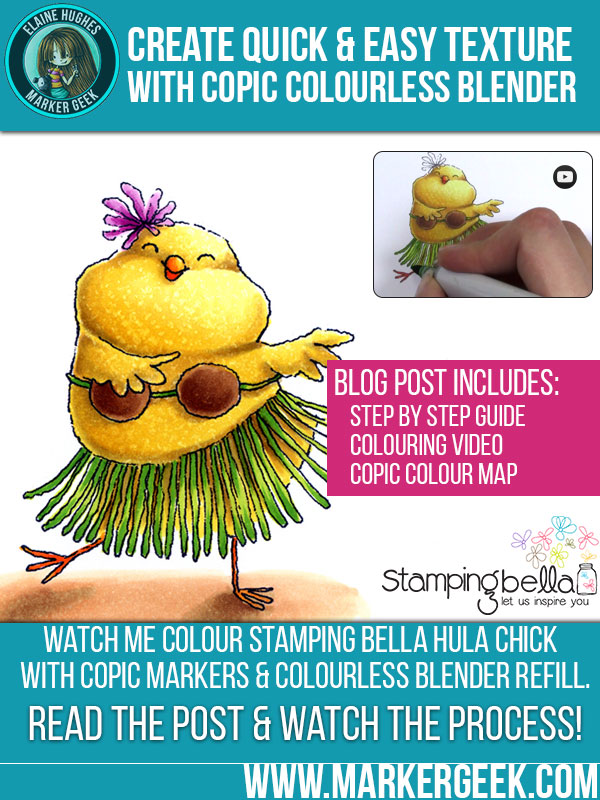 #TheDailyMarker30Day Challenge:
Today is the final day of Kathy Racoosin's The Daily Marker 30 Day Colouring Challenge. I'll admit that I'm a little sad! Not because I won't be colouring every day, I do that anyway, but the sense of community and fun Kathy has built up with the challenge is amazing. Like many others, I will definitely be looking forward to the next one.
I did pretty well with my personal twist on the challenge. I missed just one of the days this time, and coloured 29 Stamping Bella images plus 28 Copic Colour Maps and one Polychromos Colour Map to go with them! I also managed to film each one, so there have been 29 videos too. Click through to my #thedailymarker30day page to see everything in one handy location.
Day 30 – Stamping Bella Hula Chick:
For the final day of #TheDailyMarker30day challenge I decided to have a little fun and colour up an oldie but goodie from the Stamping Bella collection – HULA CHICK by Christine Grove. Love this image, so cute and fun. You can't help but smile when looking at her.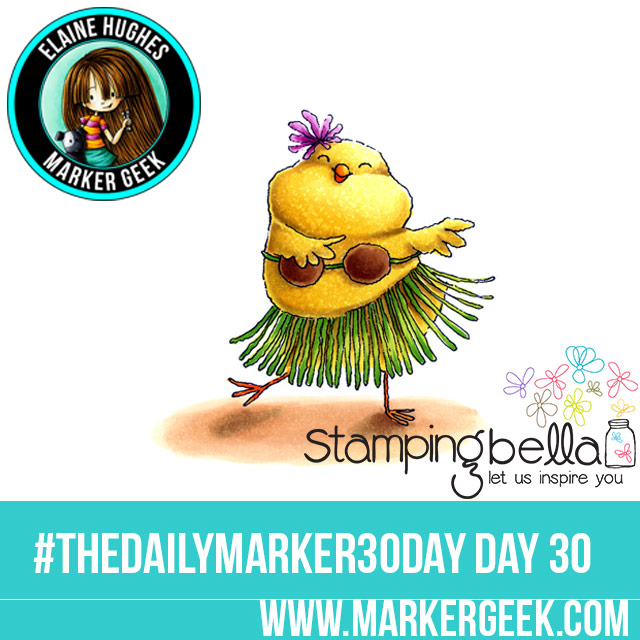 Keep reading to see a step by step guide to creating the texture on this image, along with a video showing the whole colouring process and a Copic Colour Map with all the colour details!
Quick Easy Texture using Copic Colourless Blender Step by Step: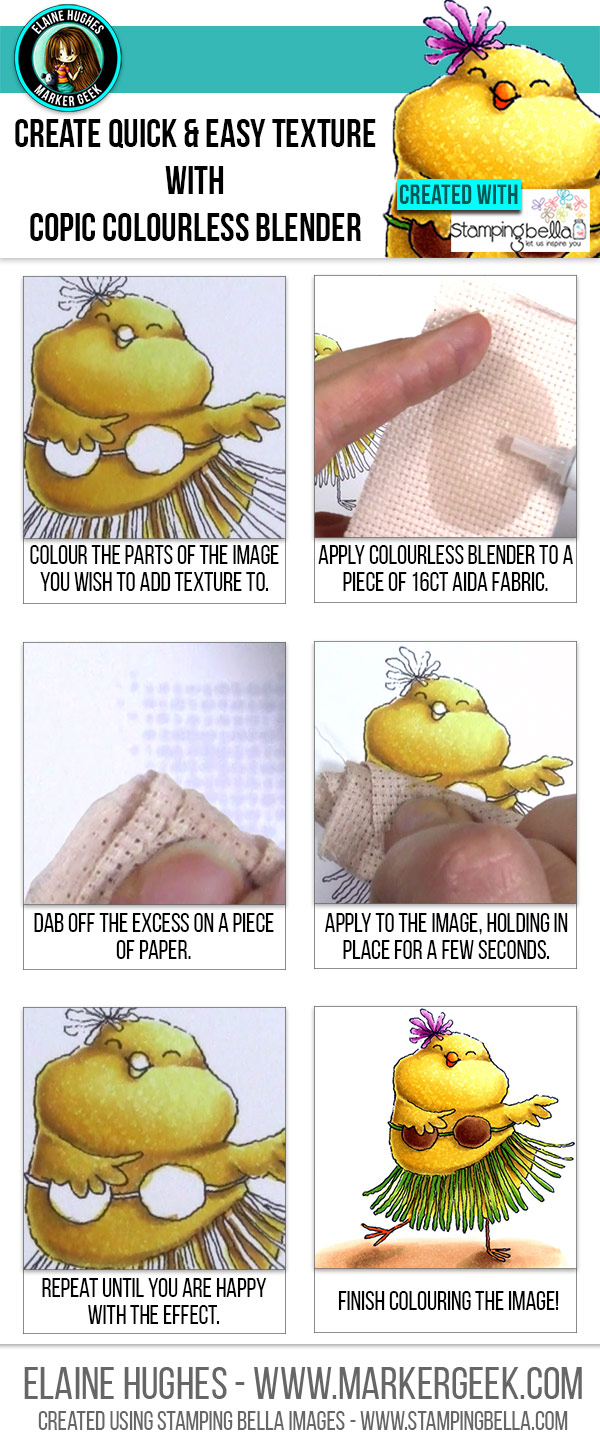 TOP TIPS:

Only colour the areas of the image that you want to add texture to, before using this technique. If you colour the whole image you are likely to end up with texture in all the wrong places!

Really dab off the excess solution on your fabric/cloth. You only need a little to create this effect, and you can build it up.
Copic Colour Hula Chick Video:
Good news for those of you following my videos: I have fixed the issue I was having with my camera, and the "wobble" should no longer occur. Apologies that it took me so long to figure that out.
Watch my Hula Chick video below or in HD over on YouTube.
Copic Marker Colour Palette / Copic Colour Map:
If you purchase stamps from Stamping Bella, you will be able to obtain a free Copic Colour Map showing the colours used on the product images seen on the packaging and website. See HERE for details. Here's a bonus one for today's image: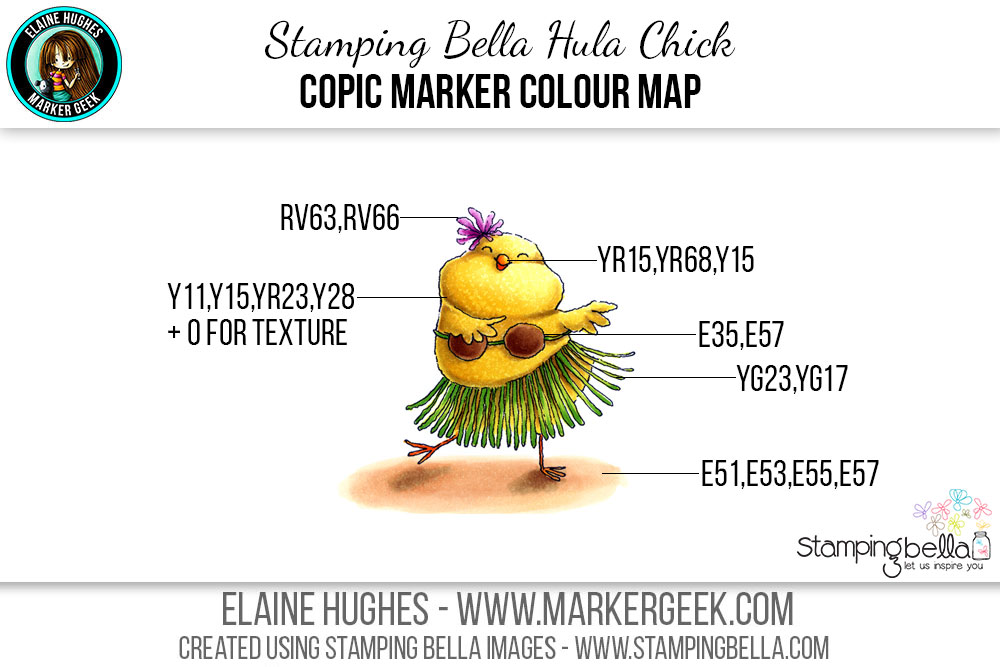 Thanks for stopping by!
I hope you have enjoyed today's post as much as I enjoyed creating it for you.
For some more tips on creating simple texture on your images, click through and check out my Marker Geek Monday Baic Fur Colouring with Markers post over on the Stamping Bella blog.
Don't want to miss out on future posts? Subscribe to my RSS feed in your favourite blog reader or subscribe via email using the form over in the sidebar.
If you want to keep an eye on what I'm colouring on a daily(ish) basis, follow me over on Instagram where I share frequent peeks at the colouring I'm doing along with other day to day snaps.
Please note that in order to assist with the running of this blog I do use affiliate links from time to time and there may be some in this post, denoted with a *. Please see my About page for more information.