Join me to check out my thoughts on a Hannah Lynn Colouring Book, watch a flip through video of the Mermaids, Fairies & Other Girls of Whimsy book and see me colouring the first page from the book! Post also includes a Copic Colour Map or colour palette showing all the colours used in colouring the page.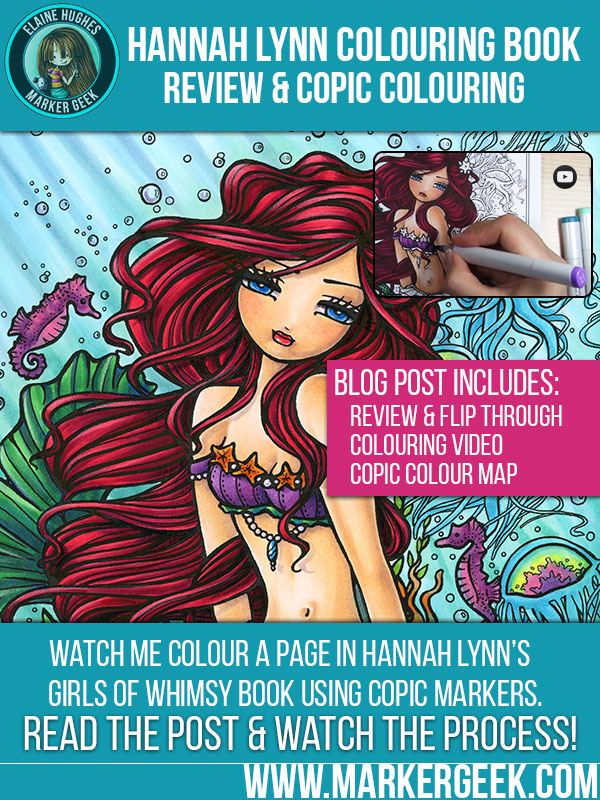 Colouring Book Therapy:
Follow me on Instagram for regular work in progress pics! I tend to share whatever I'm colouring over there, including stamped images and colouring book pages.
If you missed the first posts in this new series click through to check them out:
Mermaids, Fairies & Other Girls of Whimsy Colour Book:
I have been a follower of Hannah Lynn's work for a few years now, having first discovered her via her digital stamps or digital colouring pages. I do have some of the digital stamps, but don't tend to use them for card making. Since I love Hannah Lynn's illustrations, I thought it might be fun to grab one of her colouring books.
When using digital stamps I often print them out to a larger size, around A4, so I can get lost in colouring hair and skin in a way that I don't always get to enjoy when colouring stamp images. Mermaids, Fairies & Other Girls of Whimsy is filled with FIFTY beautiful images, most of which are roughly A4 in size. A couple of the pages are a collage of images.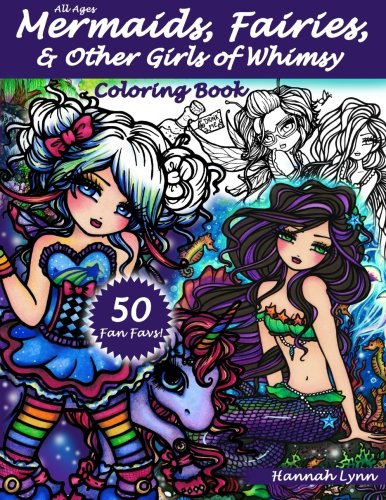 This Hannah Lynn colouring book is a standard Amazon printed book. The pages are a thin but fairly nice quality white paper, like copy paper. The designs are single-sided, so you don't need to worry about bleed through apart from protecting the next page by inserting a heavyweight paper or a few sheets of copy paper between the pages while you work. When using Copic Markers * (US link *) I didn't find any problems with bleeding or feathering across lines. This could be because I tend to use a fairly light touch and build up in layers. I found that I was able to layer quite well, and blending was not problematic. The bold outlines should be fairly helpful in avoiding any major feathering issues.
Because the paper is similar to copy paper, I would not recommend using watercolours. Zig Clean Colour Real Brush Pens * (US link *) should work if you blend them as I did in my Colouring Book Therapy – Colouring Imagimorphia with Zig Clean Color Real Brush Pens post, using the lighter pens to blend the colours. I will probably continue to use Copic Markers in my book, along with some coloured pencil to enhance the Copic colouring.
The book has a glued rather than sewn binding. As you can see in the flip through video below, there is a nice frame and border around each design on the page, so they would be easy to remove from the book without damaging or losing any of the image.
There is a handy blank page in the back of the book which you could use to test your mediums and make notes. At the front of the book there is an index of the pages, showing a thumbnail of each design along with the name of the image. This is really handy for choosing an image to colour, checking off pages you have completed and even roughing out some colour schemes.
I'm really happy with this book. The paper isn't of the highest quality, but it works well for my preferred mediums, particularly as the pages are single-sided. The subject matter is suitable for all ages, and I will probably order a copy for my nieces to enjoy too!
Please note that I am referring to the Amazon UK printing of the book in this post.
Hannah Lynn Colouring Book Flip-through Video:
I put together a quick flip-through of the book so you can check it out and get a good feel for the style and variety of images included.
Watch the video below or in HD over on YouTube.
I foresee a lot of fun colouring time with this book, bringing Hannah's beautiful girls to life with markers.
Other Info and Links:
UK based readers can find Mermaids, Fairies, & Other Girls of Whimsy Coloring Book: 50 Fan Favs
* Hannah Lynn's other books are also available.
US based readers can find Mermaids, Fairies & Other Girls of Whimsy* Hannah Lynn's other books are also available
.
You can purchase digital stamps and other products including higher quality loose leaf coverstock versions of the books directly from Hannah's website: HannahLynnArt. You can also find prints of Hannah's artworks to buy. View her Portfolio page to find inspiration for colouring the images in her books.
Colouring Hannah Lynn's Kathleen Mermaid with Copic Markers:
I coloured the first page in Hannah Lynn's Mermaids, Fairies and Other Girls of Whimsy book – "Kathleen" – using Copic Markers * (US link *). You will find a colouring video and a Copic Colour Map or colour palette for your reference below!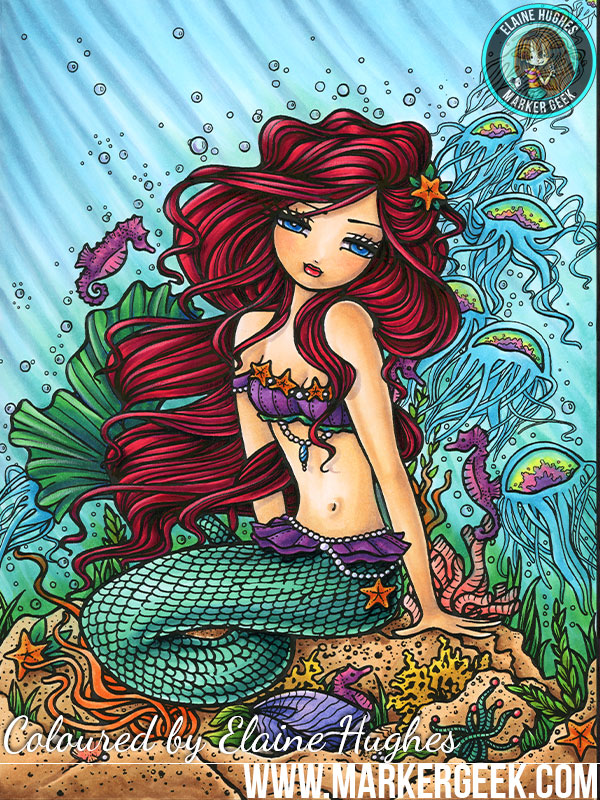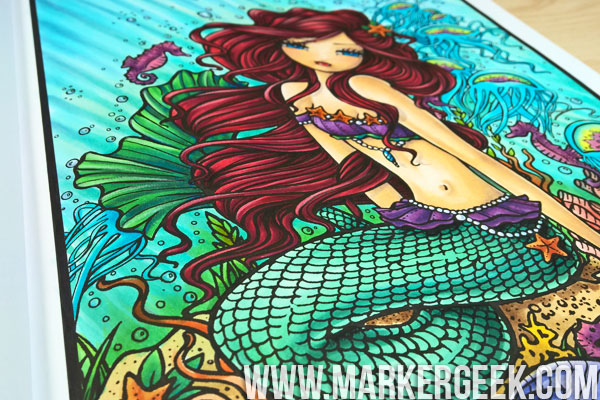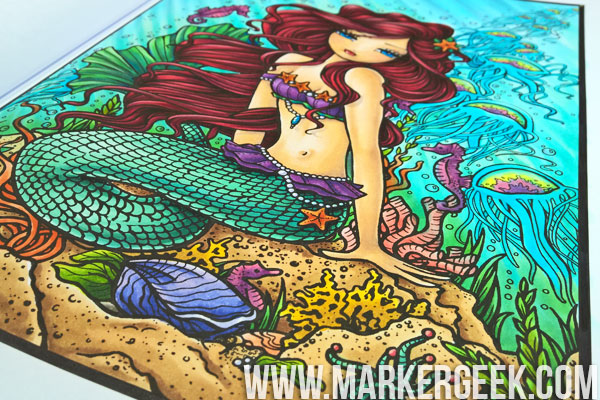 The paper in this book, like all Amazon printed books, is a fairly thin copy paper. With alcohol markers there will definitely be bleed-through to the back of the paper. Because the pages are single-sided, this is not a problem at all. Just remember to put a few sheets of paper between the page you are colouring and the one underneath, to avoid marking the next page.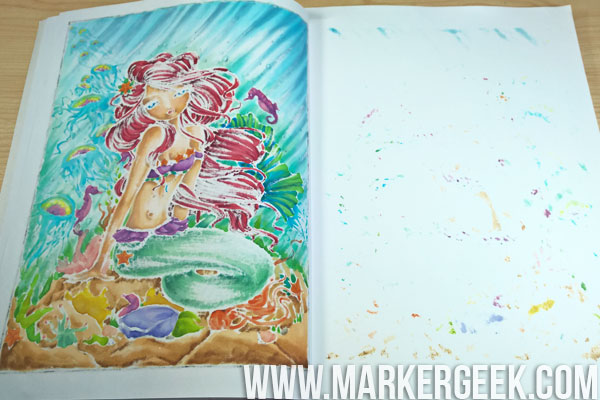 Copic Colouring Video:
Watch the video below or in HD over on YouTube.
Copic Marker Colour Map or Colour Palette: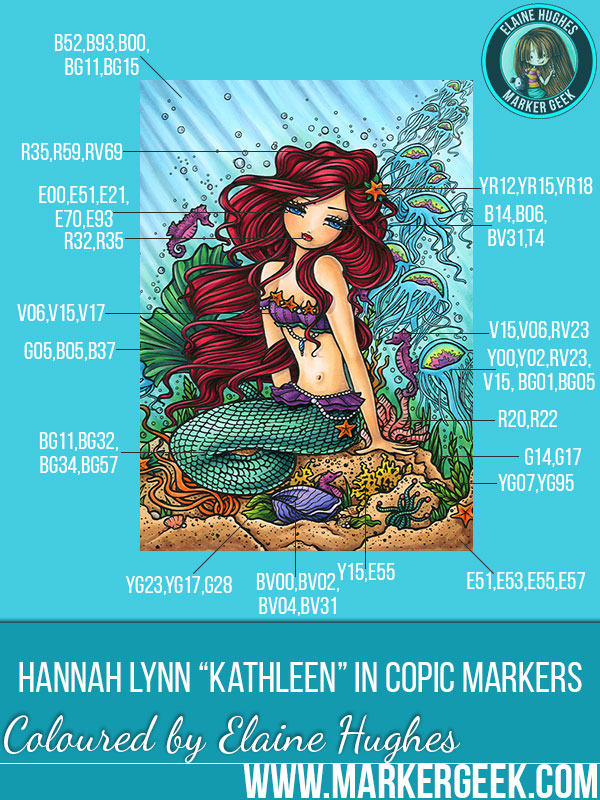 Please feel free to save this image or pin it on Pinterest for your reference. Please do not republish or send directly to your friends, instead please point them to this page to obtain it for themselves!
More Adult Colouring Book Videos:
You can find a number of videos showing how I colour over on my Marker Geek Youtube Channel. All of my Colouring Book Therapy videos will be collected into my Colouring Book Therapy Playlist.
Thanks for stopping by!
I hope you have enjoyed today's post as much as I enjoyed creating it for you.
Don't want to miss out on future posts? Subscribe to my RSS feed in your favourite blog reader or subscribe via email using the form over in the sidebar.
If you want to keep an eye on what I'm colouring on a daily(ish) basis, follow me over on Instagram where I share frequent peeks at the colouring I'm doing along with other day to day snaps.
Please note that in order to assist with the running of this blog I do use affiliate links from time to time and there may be some in this post, denoted with a *. Please see my About page for more information.