Click through to take a look at my latest handmade card and get inspiration for using the Stamping Bella Chicks with a Sprinkle on Top rubber stamp in your own card making.

My Latest News:
Summer so far has been pretty low-key, lots of work on various projects and some family days here and there. I've been sharing plenty of photos on my Instagram feed, mostly showing colouring works in progress. I'm approaching 2000 followers on Instagram which is quite exciting! Love hitting those milestones. If you haven't connected with me over there yet, I'd love for you to do so. Just click the link – Marker Geek on Instagram – or search for @markergeek in the app on your mobile device. Instagram has to be my favourite social media platform for sharing.


I've been hard at work behind the scenes recently, colouring all the images for the next exciting stamp release from Stamping Bella. We will be sharing all the fantastic new images with you soon, including colouring videos for everything. I'm in the midst of video editing so everything is all ready for the previews.
In the meantime let's take a look at how I used one of our older stamps on a fun, cheerful, clean and simple card design.
Stamping Bella Chicks with a Sprinkle on Top Card: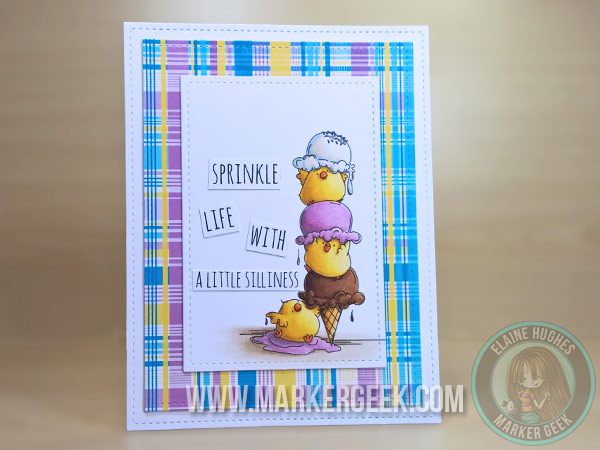 Stamp: Stamping Bella Chicks with a Sprinkle on Top. Gotta love those ridiculous little chicks, they get into everything! I think this image is perfect for a "just because" note card, a summer themed card or layout, a birthday card of course and even for decorating your planner to mark a summer outing or just an ice cream treat day. 😉
I stamped the image with Memento Tuxedo Black ink on Make it Colour Blending Card (my favourite for colouring with Copic and other alcohol based markers) before colouring with Copic Markers.
I used a sentiment from another Cool Chicks stamp set – Stamping Bella Iron Chef Chicks. I stamped the sentiment on white cardstock and then cut it apart using scissors before arranging on my card. This is a fun way to extend the use of sentiments and allow them to fit where the original layout would not work.
The patterned papers I used come from a digital paper pack printed on cardstock using my CANON Pixma iP7250 printer *.
I used a mix of dies from the Lawn Fawn Stitched Rectangles die sets.
I create my own card blanks using a Fiskars High Precision Personal Paper Trimmer *, a Martha Stewart Scoring Board * and bone folder * (I don't like the plastic scoring tools, I use a bone folder and have had mine for several years).
Alternative Colouring for Chicks with a Sprinkle on Top:
I coloured this image again during the #TheDailyMarker30Day colouring challenge (see THIS PAGE for all the Stamping Bella images I coloured during the challenge along with videos and colour maps).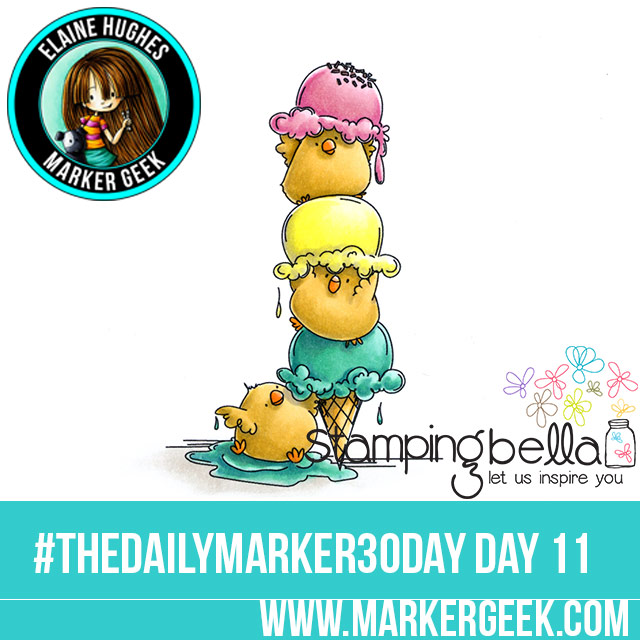 While colouring for the challenge I filmed the process, so you will find both a colouring video and full Copic Colour Map below.
Copic Colouring Video for Stamping Bella Chicks with a Sprinkle on Top:
Watch the video below or in HD over on YouTube.
Note: Please bear with the "wobble" you may notice in this and other videos filmed around the same time. I was experiencing some issues with my video camera which I have since fixed!
You can find many other videos showing how I colour over on my Marker Geek Youtube Channel. All my Stamping Bella related videos can be found in the Stamping Bella Video Playlist.
Copic Colour Map for Stamping Bella Chicks with a Sprinkle on Top:
If you purchase stamps from Stamping Bella, you will be able to obtain a free Copic Colour Map showing the colours used on the product images seen on the packaging and website (including the image seen on today's card). See HERE for details.
Here is the bonus Copic Colour Map created for the image as coloured in my video above.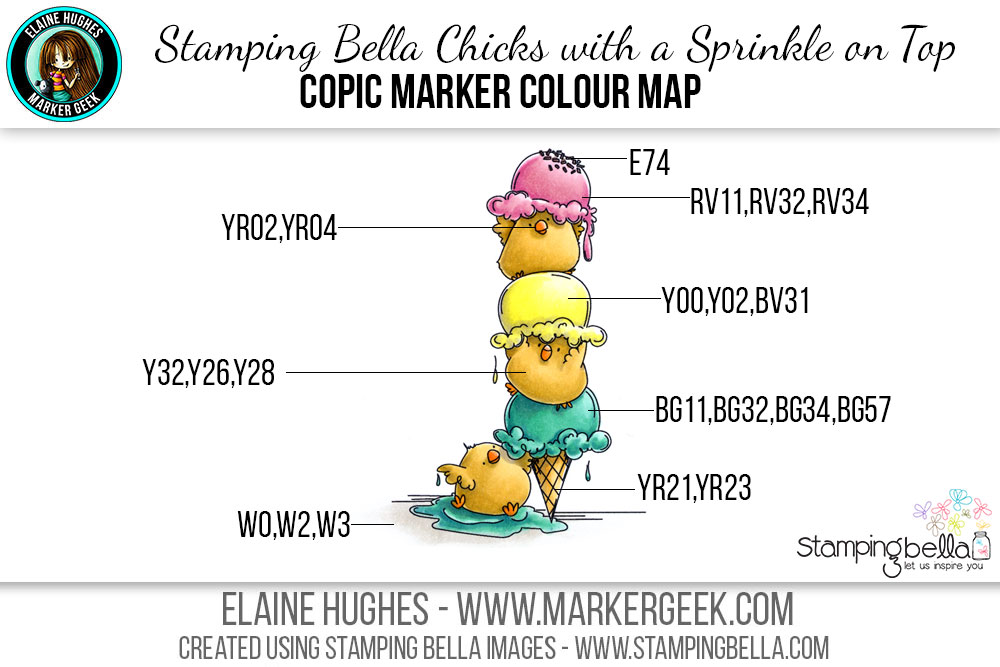 Thanks for stopping by!
I hope you have enjoyed today's post as much as I enjoyed creating it for you.
Don't want to miss out on future posts? Subscribe to my RSS feed in your favourite blog reader or subscribe via email using the form over in the sidebar.
If you want to keep an eye on what I'm colouring on a daily(ish) basis, follow me over on Instagram where I share frequent peeks at the colouring I'm doing along with other day to day snaps.
Please note that in order to assist with the running of this blog I do use affiliate links from time to time and there may be some in this post, denoted with a *. Please see my About page for more information.