Today I'm sharing some inspiration for using the new Stamping Bella Christmasgiftabella rubber stamp set, along with a festive version of my Copic Pleats & Folds step by step guide and colouring video!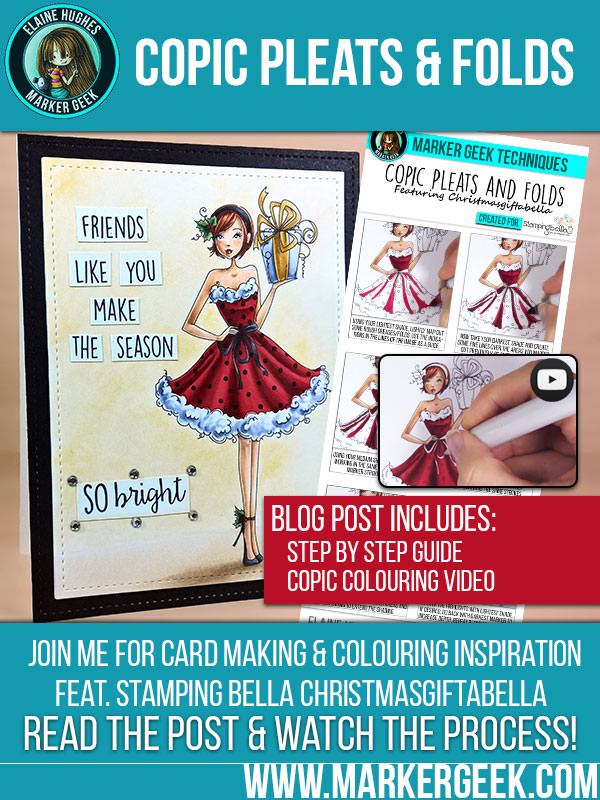 Stamping Bella Holiday 2016 Release:
The latest Stamping Bella release includes some fantastic Christmas images. One of my favourites is the new Bella V2.0 Christmasgiftabella. Absolutely gorgeous! There is a coordinating Cut It Out die available for her too, which is very handy when it comes to Christmas crafting – any and all timesavers are welcome. The less time I have to spend fussy cutting, the more time I can spend colouring. I think you can guess which activity I prefer. 😉
Stamping Bella Christmasgiftabella Card: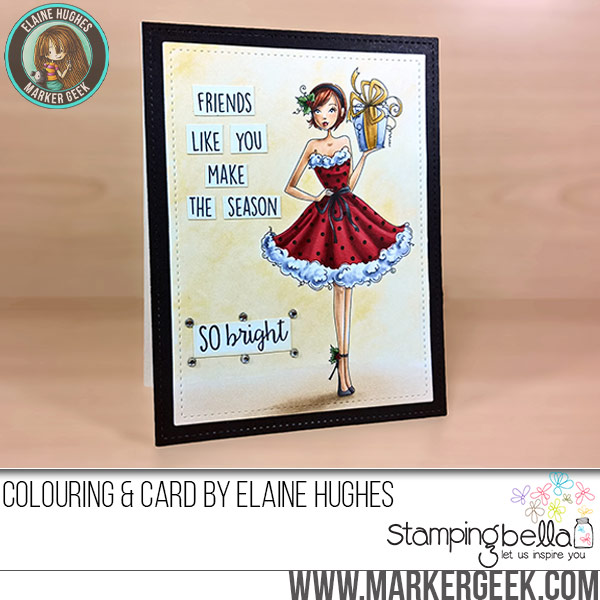 The images and background were coloured with Copic Markers UK link*/US link* on Make it Colour Blending Card.
The sentiment I used comes in the stamp set with the image. I simply stamped it then cut it apart to fit my card design.
I created my card using Lawn Fawn Stitched Rectangles dies sets. Lawn Fawn Dies UK link*/Lawn Fawn dies US link*
I didn't have any black cardstock on hand, so I die cut the bottom layer from Make it Colour Blending card and coloured it using a black Copic marker. As you can see from my blog post Merry Christmas with Uptown Girl Savannah (includes step by step guide), I love doing this! It means I don't have to worry about having lots of different colours of cardstock on hand, and I can always have perfectly coordinating layers.
I create my own card blanks using 300gsm cardstock, a Fiskars High Precision Personal Paper Trimmer */US link*, a Martha Stewart Scoring Board*/US link*. and bone folder*/US link*.
Colouring Christmasgiftabella's Dress:
I thought it would be fun to create a festive version of my guide to colouring fabric pleats and folds, featuring Stamping Bella Christmasgiftabella. You can of course colour her dress more simply, but it's fun to play with creating some detail!
Below you will find a colouring video showing me colouring the bottom part of her dress in real time so you can get a really good look at my process, followed by a step by step guide for you to  reference!
Copic Colouring Fabric Pleats & Folds Video:
You can watch the video below or in HD over on YouTube.
Copic Colouring Fabric Pleats & Folds Step By Step Guide: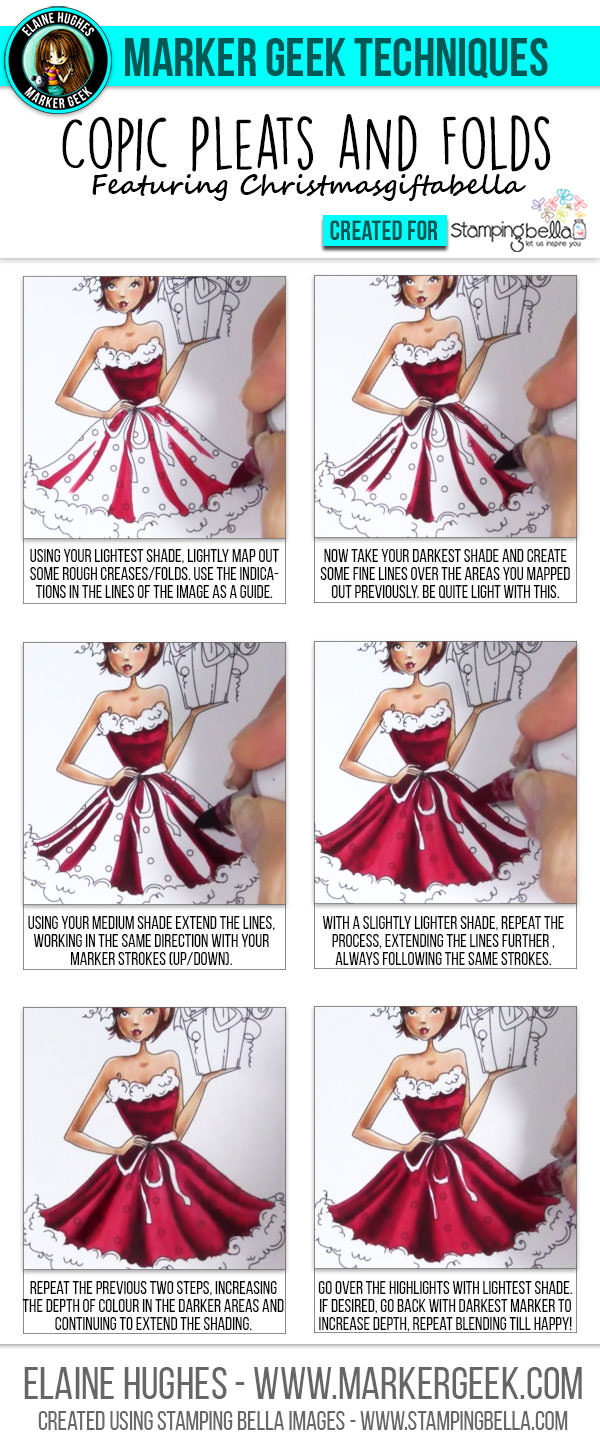 Please feel free to save this image or pin it to your Pinterest board. It is intended for your reference. I do ask that you do not repost this image on your own blog or directly send the image to other people, instead please direct them to this blog post to obtain it for themselves.
More Stamping Bella Colouring Videos:
You can watch all my Stamping Bella colouring videos in the playlist below or in HD over on YouTube.
Thanks for stopping by!
I hope you have enjoyed today's post as much as I enjoyed creating it for you.
Join me next weeks for some helpful tips on working with Copic reds!
Don't want to miss out on future posts? Subscribe to my RSS feed in your favourite blog reader or subscribe via email using the form over in the sidebar.
If you want to keep an eye on what I'm colouring on a daily(ish) basis, follow me over on Instagram where I share frequent peeks at the colouring I'm doing along with other day to day snaps.
Please note that in order to assist with the running of this blog I do use affiliate links from time to time and there may be some in this post, denoted with a *. Please see my About page for more information.