Join me today for some fun colouring the new Pumpkin stamps from the latest Stamping Bella release. Here on the blog I'm sharing some colour palettes and a colouring video for colouring pumpkins using coloured pencils.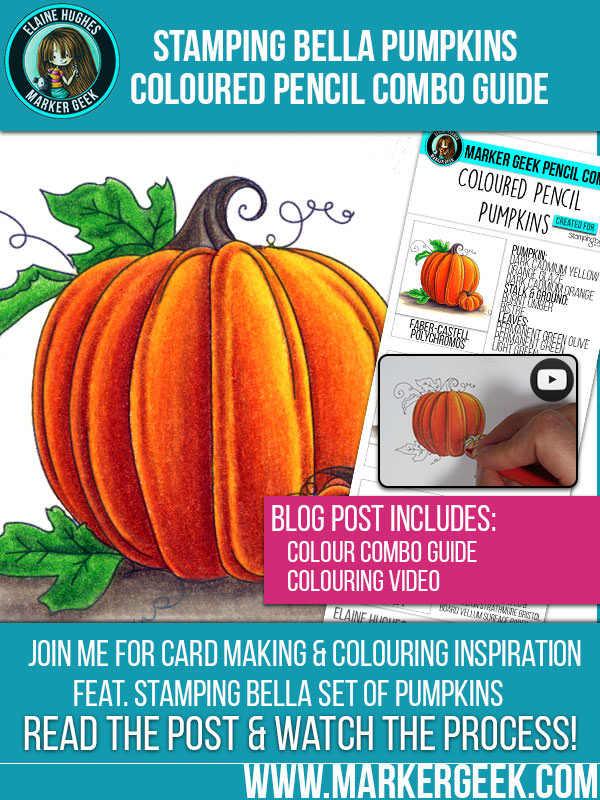 Marker Geek Monday at Stamping Bella:
Over on the Stamping Bella blog today you will find my Marker Geek Monday feature, this week focusing on Copic combos for colouring pumpkin images! When you've finished here, click through to read that post: Marker Geek Monday Copic Colour Combos for Pumpkins (with video).
Colouring Pumpkins Using Coloured Pencils:
I know that not everyone has Copic markers, and many people prefer to use coloured pencils. So, here on my blog today I've got a video showing how I coloured the largest pumpkin from the new Stamping Bella Set of Pumpkins stamp set using Faber-Castell Polychromos pencils, along with a handy colour combo guide for colouring the image using Polychromos pencils, Prismacolor pencils and the budget friendly Staedtler Ergosoft pencils.
Colouring Video:
Watch the image being coloured in the video below or in HD over on YouTube.
Coloured Pencil Combo Guide:
Here's my handy guide showing the colours I used when colouring pumpkins using coloured pencils.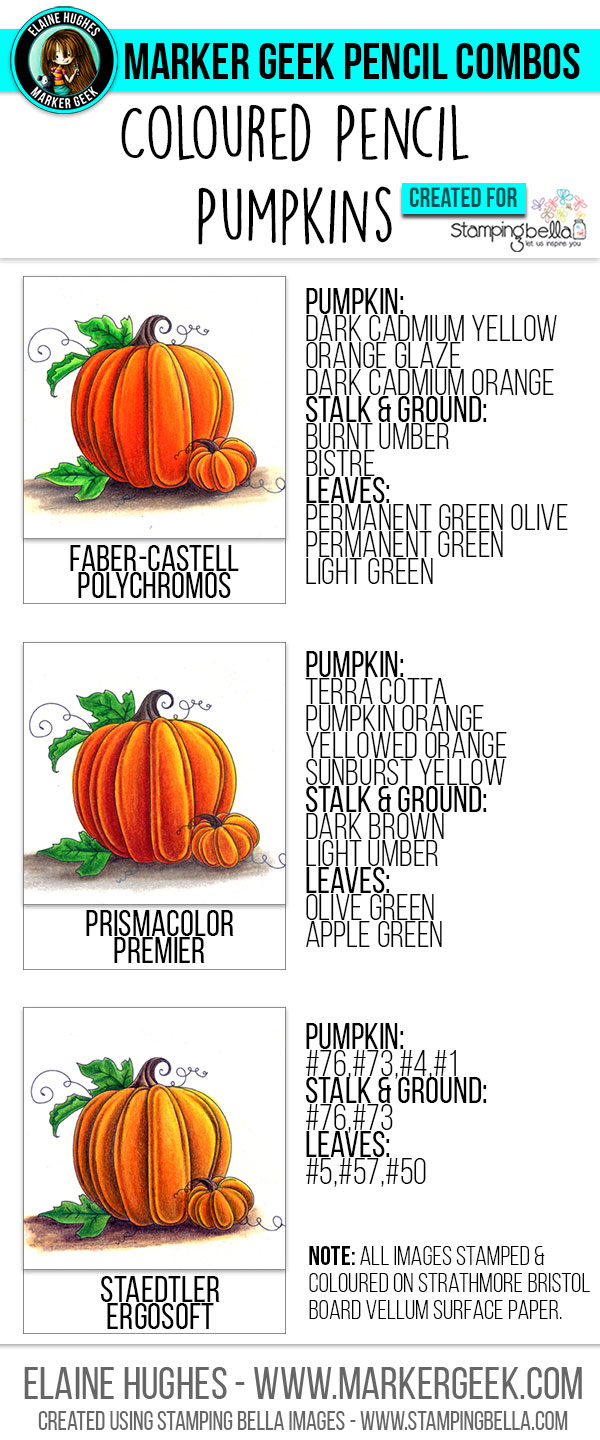 Please feel free to save this image or pin it to your Pinterest board. It is intended for your reference. I do ask that you do not repost this image on your own blog or directly send the image to other people, instead please direct them to this blog post to obtain it for themselves.
Thanks for stopping by!
I hope you have enjoyed today's post as much as I enjoyed creating it for you.
Don't want to miss out on future posts? Subscribe to my RSS feed in your favourite blog reader or subscribe via email using the form over in the sidebar.
If you want to keep an eye on what I'm colouring on a daily(ish) basis, follow me over on Instagram where I share frequent peeks at the colouring I'm doing along with other day to day snaps.
Please note that in order to assist with the running of this blog I do use affiliate links from time to time and there may be some in this post, denoted with a *. Please see my About page for more information.