Join me today for a fun Copic Northern Lights effect background and a Stamping Bella Christmas card design featuring one of the latest releases.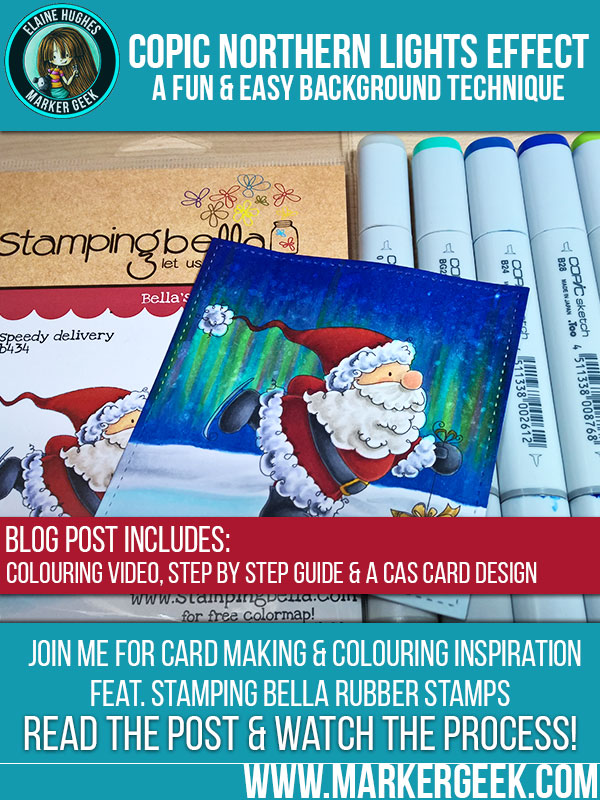 Marker Geek Monday:
You can also check out my latest post over on the Stamping Bella blog , which includes the video from this post and a look at an earlier video I created for a similar technique. While you're there be sure to have a browse and enjoy all the inspiration on offer from the rest of the Design Team.
Stamping Bella Santa's Speedy Delivery Card:
Here's the card I created using the completed scene. As usual, I kept things nice and simple to let the image shine. Since I tend to spend a while on colouring, I like to keep the rest of the card-making process as quick and easy as possible!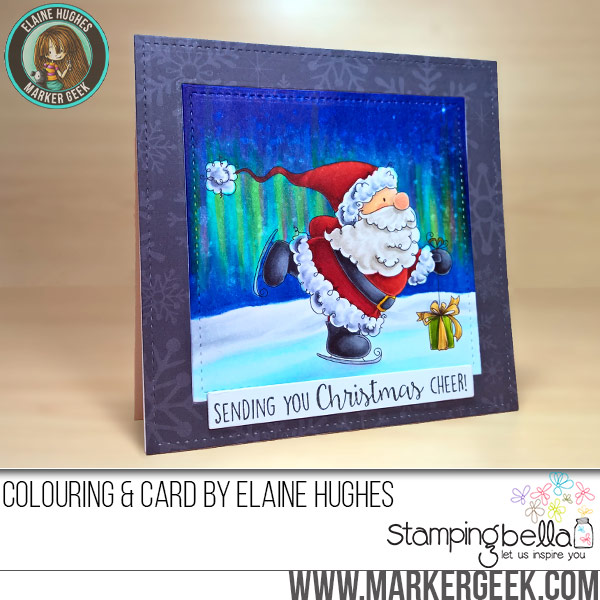 Looks pretty cool, right? It's a fun and fairly easy way to give the image a little extra "WOW" for the recipient of your card.
Card Making Supplies:
Stamp: Stamping Bella Santa's Speedy Delivery PLUS the sentiment from Chickadeer.
The image was coloured with Copic Markers UK link*/US link* on Make it Colour Blending Card.
I stamped the sentiment using Ranger Archival ink in Jet Black UK link* / US link*. I used my MISTI stamp tool UK link*/US link* for all stamping.
The patterned paper is from an Echo Park digital paper pack printed on cardstock using my CANON Pixma printer */US link*.
The layers were die cut using Lawn Fawn Stitched Square die sets. Lawn Fawn Dies UK link*/Lawn Fawn dies US link*
Copic Colouring Technique:
Let's see how that background is done!
Copic Northern Lights Effect Background Video:
Watch the video below or in HD over on YouTube.
This did take a little time, mostly because I was playing around without too much of a plan, and also because of the colours I chose to use which needed a little work to get things looking right!
When I had finished colouring, I decided using one of my favourite colourless blender techniques would finish things off perfectly. I was right! It's a great technique to use for backgrounds, to help soften things and distract the eye from imperfections and marker strokes. In this case it also adds to the slightly fuzzy light effect. You can also see me using this technique in my Copic Galaxy Background Tutorial (w/video & step by step guide).
You can watch me colouring Santa in another video: Stamping Bella Santa's Speedy Delivery Copic Colouring Video on YouTube
Copic Northern Lights Step by Step Guide:
Here's a step by step guide go along with the video. I hope you find it helpful!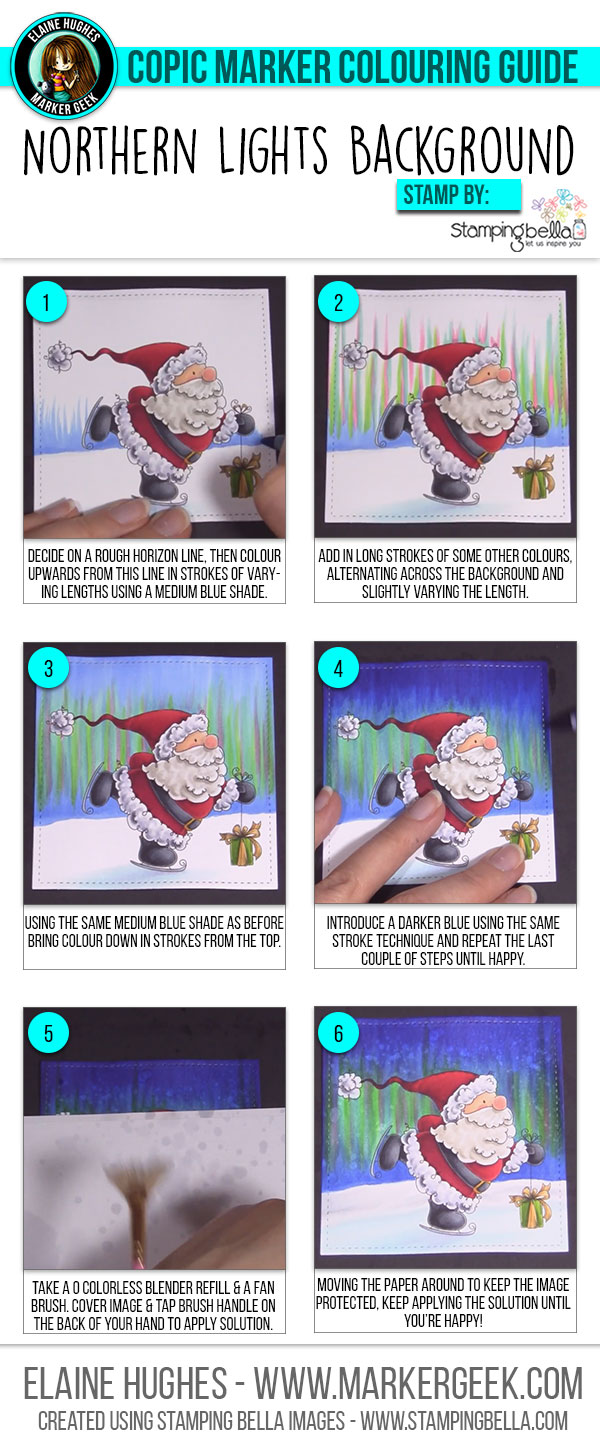 Please feel free to save this image or pin it to your Pinterest board. It is intended for your reference. I do ask that you do not repost this image on your own blog or directly send the image to other people, instead please direct them to this blog post to obtain it for themselves.
Colouring Tips:
A few little tips to help you with the technique!
Colour the background first! It makes life much easier as you can more easily fix any areas where your marker strokes stray into the stamped image, and you won't need to protect the coloured image when flicking the Colorless Blender solution.
Use a cheap fan brush and keep it for using with Colorless Blender. You don't need a high quality brush for this, so save your expensive tools!
Practice marker strokes and blending on a separate piece of paper first. This will allow you to gain confidence in creating the long strokes, and also to experiment with colours and blending.
Use what you have! You do not need to use the same colours as me for this technique (or ever for that matter), use the markers you have and see what you can do.
Come in at the end with your Colorless Blender marker and enhance some of the spots to create stars.
Thanks for stopping by!
I hope you have enjoyed today's post as much as I enjoyed creating it for you.
Don't want to miss out on future posts? Subscribe to my RSS feed in your favourite blog reader or subscribe via email using the form over in the sidebar.
If you want to keep an eye on what I'm colouring on a daily(ish) basis, follow me over on Instagram where I share frequent peeks at the colouring I'm doing along with other day to day snaps.
Please note that in order to assist with the running of this blog I do use affiliate links from time to time and there may be some in this post, denoted with a *. Please see my About page for more information.