As usual, the week seems to have flown by. All the colouring fun may be helping there, as I've been colouring every day both for upcoming stamp releases and also in my colouring book collection for the #TheDailyMarker30Day colouring challenge!
If you follow me on Instagram you have probably seen my recent colouring of the Gryffindor Crest and my current work in progress of the Slytherin Crest. Today I'm sharing the video I filmed while colouring the Gryffindor Crest using Copic Markers. Click on through to check it out!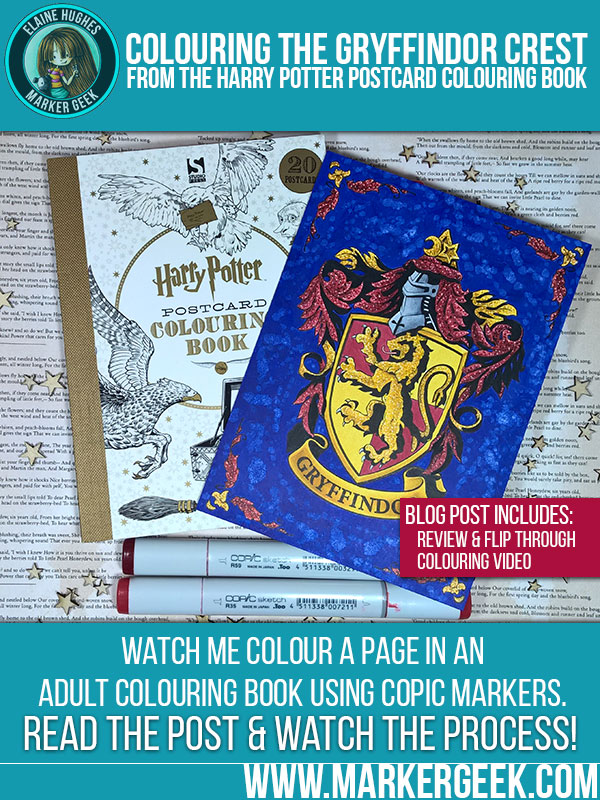 Harry Potter Colouring Books:
I have a few of the Harry Potter Colouring Books in different sizes: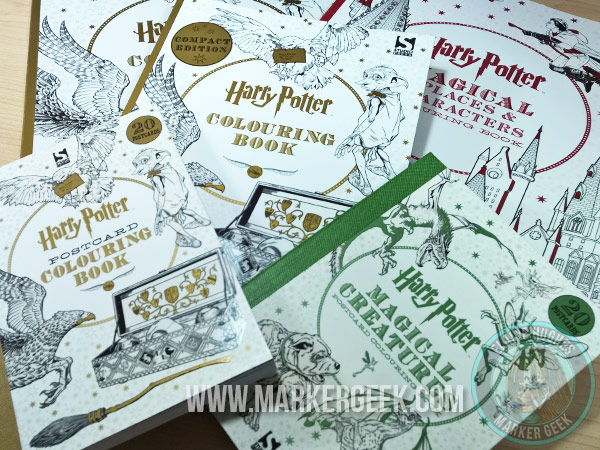 Watch the flip through videos in the playlist below or in HD over on YouTube.
Here in the UK all of the books are published by Studio Press and are of a decent quality. The larger and compact editions feature double sided page designs, the postcard editions are single-sided with the usual postcard markings on the reverse and the postcards are a nice heavyweight cardstock.
The larger editions include some full colour images from the films in the back, which is a nice touch for reference purposes.
Because I wanted to colour using Copic Markers UK link*/US link*, I opted to colour a page from the postcard edition so that bleed-through wouldn't be a concern. I really like the postcard editions for this, and the fact that they take less time to complete also doesn't hurt!
Copic Colouring Gryffindor Crest:
I recently sent a little Harry Potter themed package to someone, and at the last minute I decided it would be fun to quickly colour the Gryffindor Crest postcard from the Harry Potter Colouring Book Postcard Edition UK Link* / US Link*. As it turned out, I got a little carried away and it ended up being more involved than I intended and took quite a lot longer than I anticipated, but I had fun and hopefully the recipient enjoyed it!
Here's the finished postcard: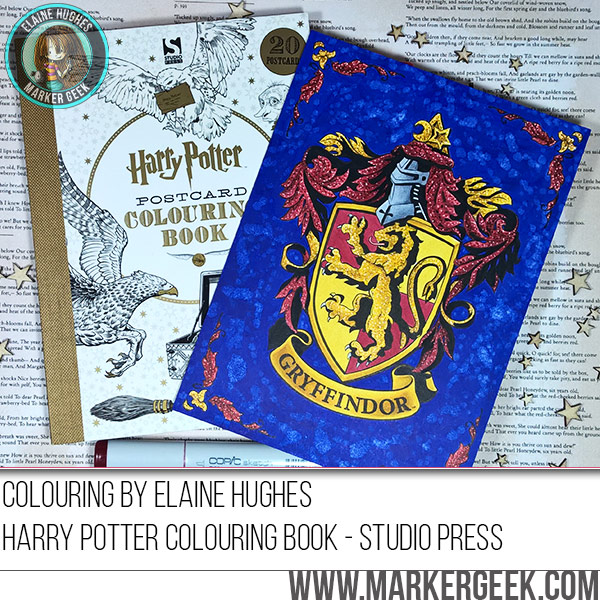 Initially I intended to leave the background white, but that seemed a little dull, so I went with one of my favourite blue shades and some Colourless Blender solution to create a textured background. I think it really helps the crest to pop off the page! Because I had already coloured the crest and didn't want to ruin my colouring, I used the brush to lightly dab the solution on the background for a more controlled effect, rather than splattering.
In addition to Copic Markers UK link*/US link* I also used:
These helped me to create the beautiful sparkly effect on parts of the crest and the corner details.
I filled in the lettering at the bottom using a size 0.3 black Copic Multiliner UK link*/US link* (I have the complete set of multiliners in black).
Copic Colouring Video:
Watch the colouring process in the video below or in HD over on YouTube.
You can see which colours I have used in the video.
I'm not sure if the paper used in this particular book is slightly different to that in the Harry Potter Magical Creatures Postcard Edition UK Link* / US Link*, but I found that the Copic ink was behaving differently and was more tricky to work with on this page than when I coloured the Cornish Pixie page. It could be that the paper is exactly the same, but using more richly pigmented colours meant any issues were more obvious.
Previous Harry Potter Colouring Book Post:
You can see more Harry Potter themed colouring in my previous post: Harry Potter Colouring Book – Cornish Pixies using Copics w/video and I will soon be sharing another page, this time using coloured pencils!
If you'd like to see my works in progress then don't forget to follow me over on Instagram!
Thanks for stopping by!
I hope you have enjoyed today's post as much as I enjoyed creating it for you.
Don't want to miss out on future posts? Subscribe to my RSS feed in your favourite blog reader or subscribe via email using the form over in the sidebar.
If you want to keep an eye on what I'm colouring on a daily(ish) basis, follow me over on Instagram where I share frequent peeks at the colouring I'm doing along with other day to day snaps.
Please note that in order to assist with the running of this blog I do use affiliate links from time to time and there may be some in this post, denoted with a *. Please see my About page for more information.