As you may be aware, last year I developed a bit of a thing for colouring Copic galaxy or nebula backgrounds, along with starry skies and Northern Lights. Well, that fixation certainly seems to be here to stay. I've got a CAS card design and a Copic galaxy video for you, so read on!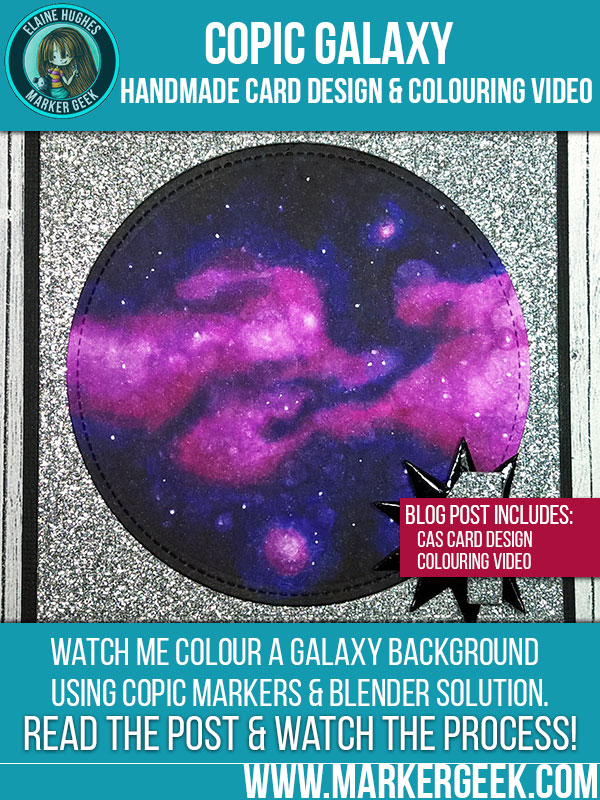 CAS Galaxy Card Design:
One of our younger nieces is fascinated by space. She turned 4 at the end of November, so I had to colour her a pretty galaxy background to go with her present (a Playmobil rocket*/US link). I think she was pretty happy with it!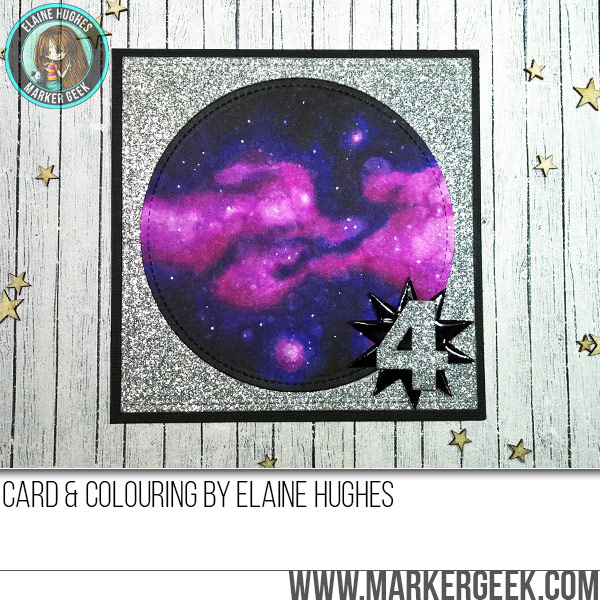 The background was coloured using Copic Markers UK link*/US link* on Make it Colour Blending Card.
I also used a Copic Various Ink 0 Colourless Blender Refill UK link*/US link* and a cheap fan brush to enhance the effect. I added some extra brighter stars using a Sakura White Gelly Roll pen UK link*/US link*. You can watch the colouring process in my video below and a list of Copics used will be included below the video.
I die cut my coloured piece using using the largest die from the Lawn Fawn Large Stitched Circle die set and layered it on a piece of silver glitter card UK link*/US link* cut using the largest die from the Lawn Fawn Large Stitched Square die set. Lawn Fawn Dies UK link*/Lawn Fawn dies US link* before mounting on a piece of Core'dinations Black Cat cardstock UK link*/US link* cut using my Fiskars Personal Trimmer UK link*/US link.
The number 4 was die cut from the same silver glitter card UK link*/US link* using the MFT Dienamics By the Numbers die set and layered on a star shape created using stars from the Tim Holtz Sizzix Alterations Crescent Moon & Stars die UK link*/US link*, which I put together and then covered with Ranger Glossy Accents UK link*/US link*.
Colouring a Galaxy Background using Copic Markers:
To see how I coloured the galaxy background using Copic Markers, watch the Copic galaxy video below or in HD over on YouTube.
I left the footage in real time for the most part, only speeding it up to 2x for the part showing the colourless blender technique. This way you can get a really good look at how I coloured the background, and should be able to easily see which markers I'm using at each stage.
Copic Colours Used: V000,100,BV29,B79,B69,V09,V04,RV69,RV25,FB2
Other Copic Background Posts:
Here are some links to some of my other Copic background colouring posts which you may find interesting!
Thanks for stopping by!
I hope you have enjoyed today's post as much as I enjoyed creating it for you.
Don't want to miss out on future posts? Subscribe to my RSS feed in your favourite blog reader or subscribe via email using the form over in the sidebar.
If you want to keep an eye on what I'm colouring on a daily basis, follow me over on Instagram where I share frequent peeks at the colouring I'm doing along with other day to day snaps. You can also follow my page on Facebook if you'd like to connect over there.
Please note that in order to assist with the running of this blog I do use affiliate links from time to time and there may be some in this post, denoted with a *. Using these links does not cost you anything, but it does help cover the costs of running this blog. Please see my About page for more information.