It's that time again – Stamping Bella release time! I've had so much fun working with the latest batch of stamps, colouring the images for the website and packaging, making card samples and colouring videos to share with you. As always, I'm relieved that I can finally share the fun! Hope you love the new release as much as we all do.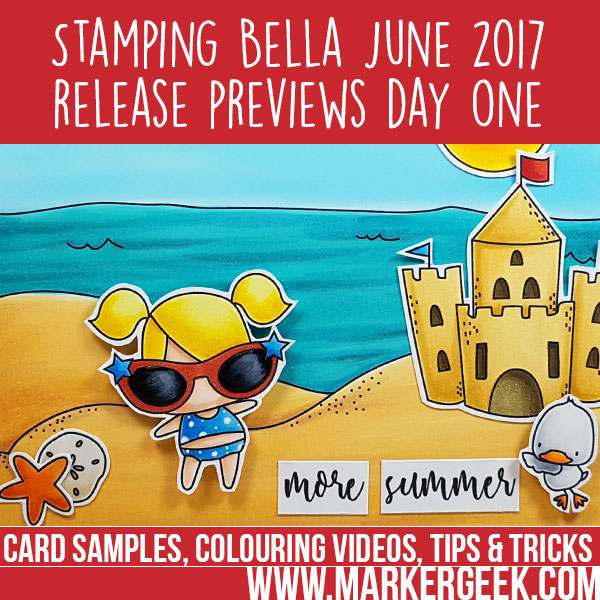 Stamping Bella June 2017 Release
This is such a fun, summery release, and it includes a whole new range of characters! Previews start today 25th June 2017 and go on until the big release day on Friday 30th June 2017.
The stamps and coordinating dies will all be available to order as of Friday 30th June 2017 at Stamping Bella.
UK/Europe based readers: lovely Tracy at Dies to Die For has the whole release on the way, so make sure you stalk her website for their arrival!
NOTE: as with previous releases, I have filmed the colouring process for each new stamp set. This time however, I'm going to upload the videos on a one or two per day basis, so you can enjoy each one and not be overwhelmed by content! Make sure you don't miss any by subscribing to my channel!
Meet The Littles:
The newest range is called "The Littles". I pestered Emily for sets like these, cute and simple, fun to colour and create little scenes with. They turned out even cuter and more fun than I expected! Absolutely in love with them.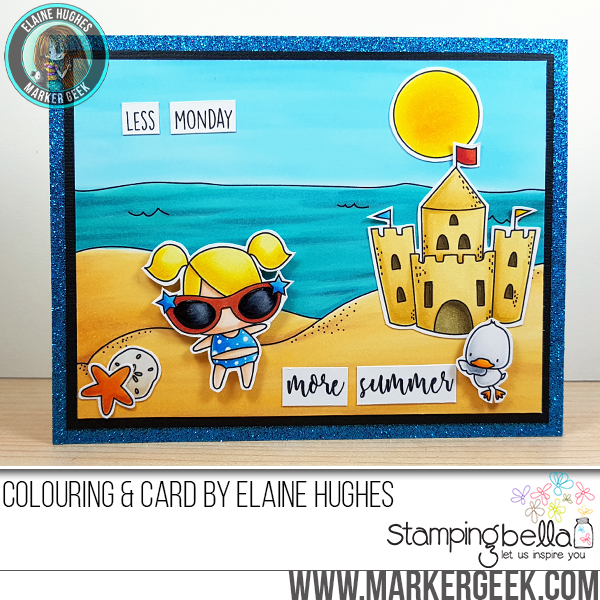 Supplies:  Copic Markers, Make it Colour Blending Card, Black Textured Cardstock, Glitter Paper, White Gel Pen, Ranger Glossy Accents.
The stamp set featured is "Sandcastle Littles". Seriously cute. That seagull…I cannot!
I also used the brand new Beach Backdrop stamp – perfect for creating a scene with The Littles or other stamps you may have! If you've never coloured a background stamp before, don't worry, it's easier than you think. My Copic colouring video for today just so happens to be for this stamp, so you can see just how easy it can be. The video is in real time, I didn't speed it up at all, and I didn't use a heap of colours, check it out further down in this post.
The sentiment is from the brand new Summer Sentiment Set also being previewed today. Such a fun set of sentiments to finish off cards with these fab new images.
Beach Backdrop Copic Colouring Video:
Watch me colouring the Beach Backdrop stamp in the video below or in HD over on YouTube.
All Copic colours used are noted in the video.
Visit the Stamping Bella Blog:
For more info and to see all the other stamps being previewed today, along with gorgeous samples from the rest of the design team, make sure you visit the Stamping Bella blog. Comment on the preview posts over there for each day to be in with a chance of winning something from the new release!
See you tomorrow with more peeks and another colouring video (or two)!
Thanks for stopping by!
I hope you have enjoyed today's post as much as I enjoyed creating it for you. Join me tomorrow for more peeks at the upcoming release.
Don't want to miss out on future posts? Subscribe to my RSS feed in your favourite blog reader or subscribe via email using the form over in the sidebar.
If you want to keep an eye on what I'm colouring on a daily(ish) basis, follow me over on Instagram where I share frequent peeks at the colouring I'm doing along with other day to day snaps. You can also follow my page on Facebook if you'd like to connect over there.
Please note that in order to assist with the running of this blog I do use affiliate links from time to time and there may be some in this post, denoted with a *. Please see my About page for more information.