Today I've got the second part of my Dark Copic Skin Tones feature for you. I played with a few more simple marker combos, and also filmed the colouring process.

Before I get into the topic of skin tones, I want to say a big thank you for all of the love and support for the last video/post. I'm so glad people found it enjoyable and useful. I will continue to bring you more videos with commentary, and hopefully over time I will be a little less hesitant about it! Don't forget to let me know if there is anything you would like to see/hear about.
If you missed my previous post in this series, you can find it here: Marker Geek Monday Dark Copic Skin Tones Part 1.
Please bear in mind that as with any marker combo suggestions, these are just that – SUGGESTIONS. The results you get will vary, and depend on the amount of ink you lay down with each colour, the order you use the markers in, and the tone of the paper you use. Use any marker combos as a jumping off point for your own experimentation!
Dark Skin Tones Copic Colouring Video:
Watch me colour little Bess in the video below or in HD over on YouTube. I chat a little in the video about what I am doing and also about colouring skin in general. I have also included the footage of me colouring the rest of the image (sped up).
The combination of markers I used to colour Bess are the second shown on the chart below – V28, E27,E29.
Stamp featured: Tiny Townie Butterfly Girl Bess
Images stamped and coloured on Make it Colour Blending Card
Readers in the UK/Europe: You can also find Stamping Bella stamps at Dies to Die For here in the UK.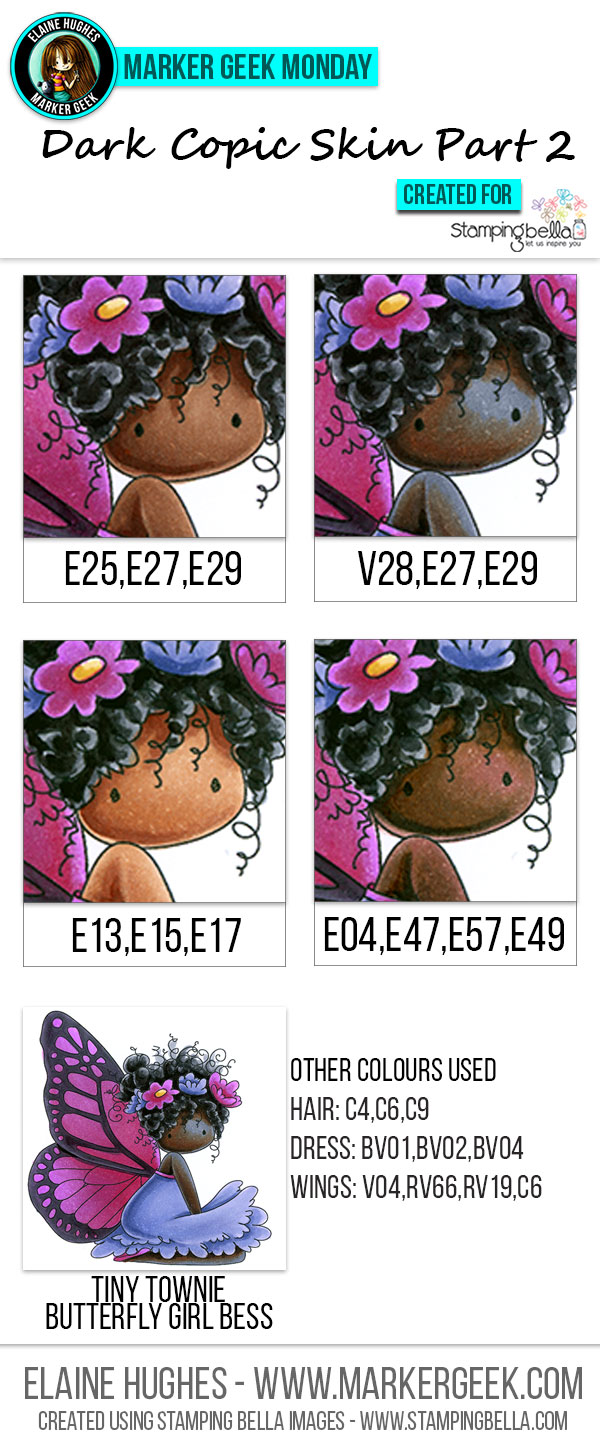 Thanks for stopping by!
I hope you have enjoyed today's post as much as I enjoyed creating it for you.
Don't want to miss out on future posts? Subscribe to my RSS feed in your favourite blog reader or subscribe via email using the form over in the sidebar.
If you want to keep an eye on what I'm colouring on a daily(ish) basis, follow me over on Instagram where I share frequent peeks at the colouring I'm doing along with other day to day snaps. You can also follow my page on Facebook if you'd like to connect over there.
Please note that in order to assist with the running of this blog I do use affiliate links from time to time and there may be some in this post, denoted with a *. Please see my About page for more information.