I hope you're enjoying the Easter weekend so far. I'm getting caught up on lots of stuff in my craft-room, and eating chocolate, so I can't complain! I've got a pretty scene card to share with you today, featuring one of the new Stamping Bella Butterfly Girls.
Click on through to check it out and watch the video to see how the card came together!

Butterfly Girl Blanche Distress Oxide Scene Card:
You may have gathered that I love using the Distress Oxide inkpads * to create backgrounds. I enjoy using them so much!
Last week I shared a fun gnome scene card and a video showing how I created it. On that card I did my stamping, Distress Oxide ink blending, and Copic colouring on Strathmore Bristol Smooth Surface paper. You can check that post and video out HERE.
Strathmore Bristol Smooth Surface paper is well suited to ink blending, but not quite as well suited to Copic colouring – you can adapt and work with it, but it isn't my favourite paper to use for Copics. Today I wanted to show you something I do a little more often, which is prioritising the Copic colouring aspect by using a more Copic friendly paper and making the inked background work on that. For today's card and video I used my favourite Copic friendly paper – Make it Colour Blending Card.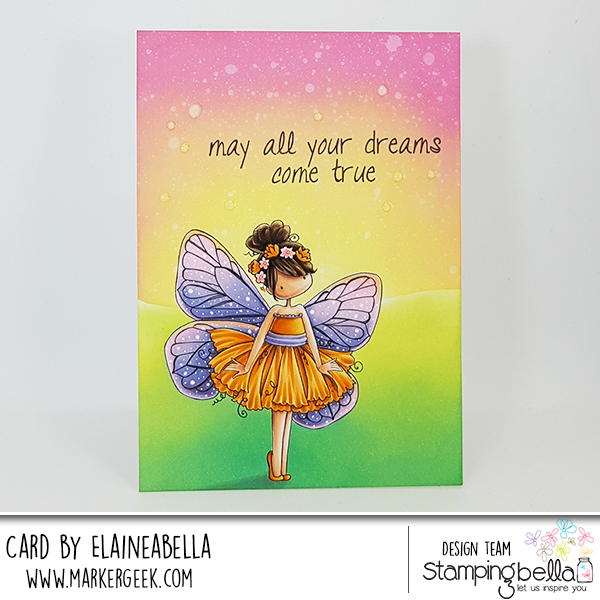 I love how it turned out. The Distress Oxides make for such easy, fun, and vibrant backgrounds.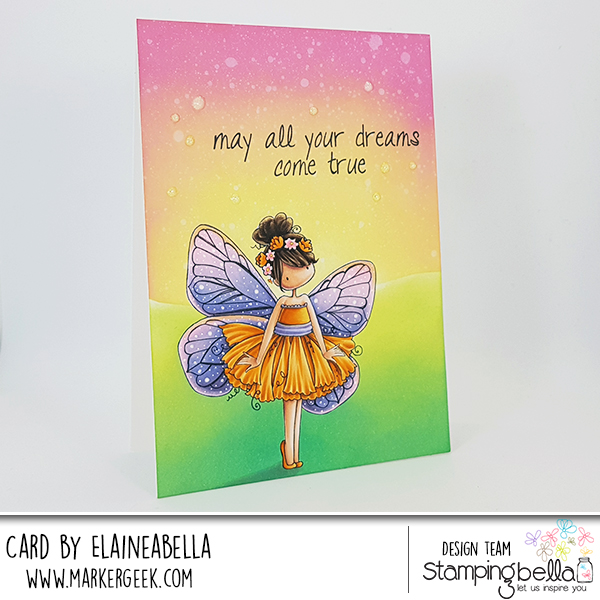 Butterfly Girl Blanche Distress Oxide Scene Card Video:
Watch me put together my card and colour beautiful Butterfly Girl Blanche in the video below or in HD over on YouTube.
Full colour details are provided in the video, along with a little commentary on how I put the whole thing together. If you enjoy the video, please do like and subscribe, it all helps!
Supplies:
UK/Europe Readers: Tracy at Dies to Die For stocks Stamping Bella stamps and dies. and also the MFT Extreme Black ink pad that I use when stamping an image for Copic colouring.
Thanks for stopping by!
I hope you have enjoyed today's post as much as I enjoyed creating it for you.
Don't want to miss out on future posts? Subscribe to my RSS feed in your favourite blog reader or subscribe via email using the form over in the sidebar.
If you want to keep an eye on what I'm colouring on a daily(ish) basis, follow me over on Instagram where I share frequent peeks at the colouring I'm doing along with other day to day snaps. You can also follow my page on Facebook if you'd like to connect over there.
Please note that in order to assist with the running of this blog I do use affiliate links from time to time and there may be some in this post, denoted with a *. Please see my About page for more information.