I've been playing with my Polychromos coloured pencils again, and I've got a new video sharing the process in the post below!

Stamping Bella Pisces in Polychromos Card:
I knew the Uptown Zodiac Girl stamps would be beautiful coloured using pencils, and I think Pisces turned out really well. I'm looking forward to colouring the rest of them in pencil soon!
After colouring Pisces, the card came together really quickly.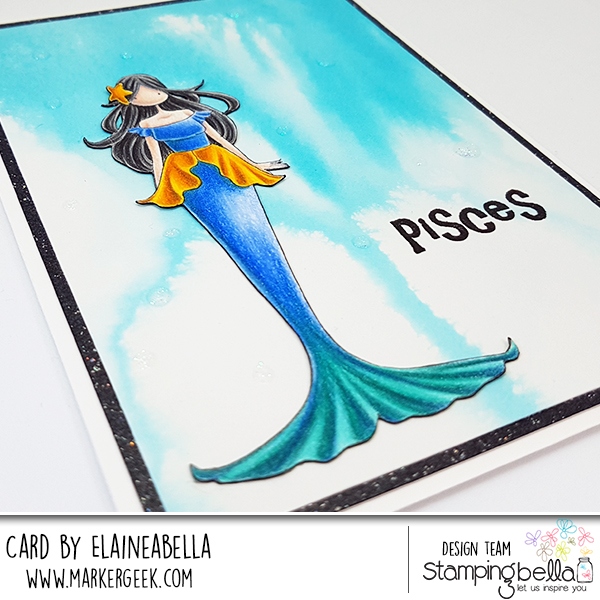 Stamping Bella Pisces in Polychromos Card Video:
Now watch me colour Pisces and put together a card in the video below or in HD over on YouTube.
Supplies:
Ink on 3 Blackout Detail ink pad
Versafine Onyx Black ink pad
Plain White 250gsm cardstock (PaperMillDirect)
Black Sparkle cardstock (PaperMillDirect)
Tonic Nuvo Glitter Drops*- White Blizzard
UK/Europe Readers: Tracy at Dies to Die For stocks Stamping Bella stamps and dies.
Thanks for stopping by!
I hope you have enjoyed today's post as much as I enjoyed creating it for you.
Don't want to miss out on future posts? Subscribe to my RSS feed in your favourite blog reader or subscribe via email using the form over in the sidebar.
If you want to keep an eye on what I'm colouring on a daily(ish) basis, follow me over on Instagram where I share frequent peeks at the colouring I'm doing along with other day to day snaps. You can also follow my page on Facebook if you'd like to connect over there.
Please note that in order to assist with the running of this blog I do use affiliate links from time to time and there may be some in this post, denoted with a *. Please see my About page for more information.