Time for another Thursday post! I'm still filling in for Sandie over on the Stamping Bella blog, so I've got another fun card for you along with a card-making video!
Littles Summer Beach Scene Shaker Card:
All month I'm recreating some of Sandie's DT Thursday step by step projects in my own style, with videos.
Today I didn't really follow Sandie's instructions, but I took a little inspiration from her and created a shaker card. Sandie does have a step by step tutorial over on the Stamping Bella blog for a fun shaker card which you can find here: Create an Under the Sea Shaker Card with Sandiebella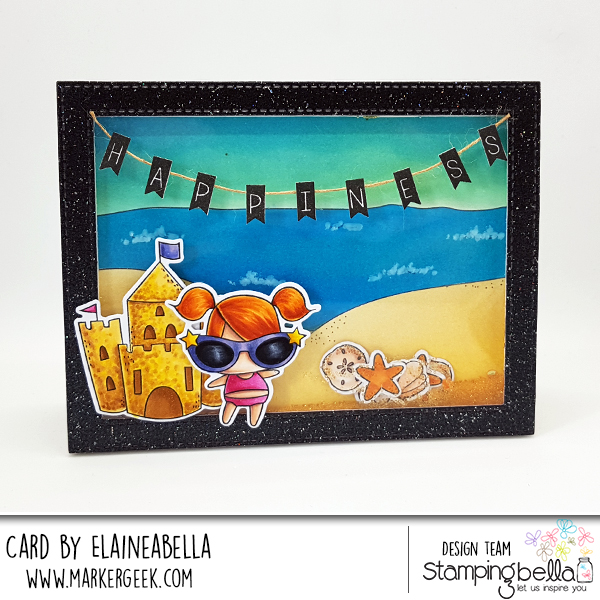 I do love a shaker card! So much fun. I really need to make more – I know my nieces love them, and they always make me smile. The die cut shells from the stamp set are just so cute in the shaker…I keep finding myself picking the card up to play!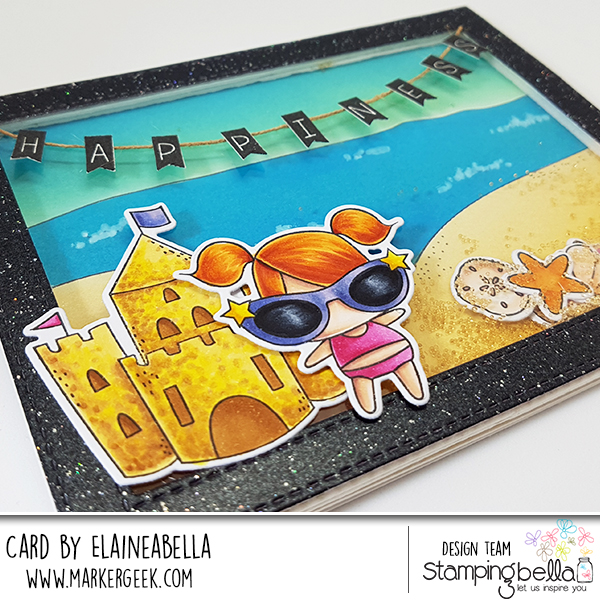 Littles Summer Beach Scene Shaker Card Video:
Now watch me put the card together in the video below or in HD over on YouTube.
NOTE: I have not included the colouring footage in this video. I had intended to link my original video for the Littles set, but unfortunately that seems to have disappeared! I will film a new complete video for that set and re-upload soon. Sorry!
Copic Colours Used:
A quick note on Copic colours I used for the character and sandcastle:
Skin: E000,E01,E11,E04 Hair: YR14,YR18,E09 SunGlasses: BV11,BV13,BV17, C4,C6,C9,Y15,YR24
Bikini: RV55,RV19
Sandcastle: YR31,Y15,E33,E35
Supplies:
UK/Europe Readers: Tracy at Dies to Die For stocks Stamping Bella stamps and dies, and also the MFT Extreme Black ink pad that I use when stamping.
Thanks for stopping by!
I hope you have enjoyed today's post as much as I enjoyed creating it for you.
Don't want to miss out on future posts? Subscribe to my RSS feed in your favourite blog reader or subscribe via email using the form over in the sidebar.
If you want to keep an eye on what I'm colouring on a daily(ish) basis, follow me over on Instagram where I share frequent peeks at the colouring I'm doing along with other day to day snaps. You can also follow my page on Facebook if you'd like to connect over there.
Please note that in order to assist with the running of this blog I do use affiliate links from time to time and there may be some in this post, denoted with a *. Please see my About page for more information.