Today I've got a Copic colouring video to share for one of the Spring 2018 Stamping Bella stamp releases, and this time I thought it would be useful to add a voice-over chatting about how I approach colouring black and also pleats or folds. Read on to check out the card and my video!
Uptown Girl Grace the Graduate Card:
You may be aware that I colour all of the product images for Stamping Bella. When I do this, I film the process and upload the videos. The Spring 2018 release was rather generously proportioned, and I'm just getting around to editing the last few videos. Most of the time these videos are just set to music, but today I thought I would spend a little extra time adding a voiceover to talk about how I approach both colouring black and also pleats or folds. I hope you find this useful!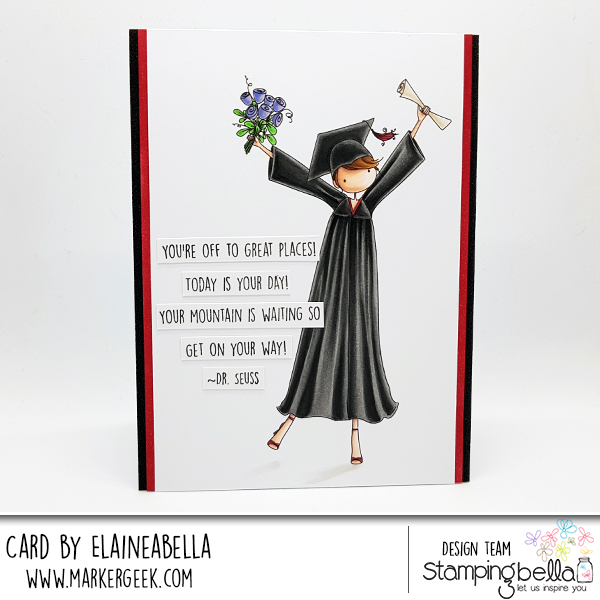 As I mention in the video you can obtain a free "Copic colour map" for the images shown on the website and product packaging, either directly via your account on the Stamping Bella website if you have ordered from there, or by contacting Stamping Bella with your purchase information if you have bought your stamps from a retailer. You can find a guide to this HERE.
Copic Colouring Black and Pleats or Folds Video:
Watch the video below or in HD over on YouTube.
Additional Resources:
In the video I mention some earlier posts and videos I have created on the subject of pleats and folds. The posts include pinnable step by step photo guides for easy reference. You can find those here:
I have also previously talked about colouring black in a post on the Stamping Bella blog:
Supplies:
UK/Europe Readers: Tracy at Dies to Die For stocks Stamping Bella stamps and dies.
Thanks for stopping by!
I hope you have enjoyed today's post as much as I enjoyed creating it for you.
Don't want to miss out on future posts? Subscribe to my RSS feed in your favourite blog reader or subscribe via email using the form over in the sidebar.
If you want to keep an eye on what I'm colouring on a daily(ish) basis, follow me over on Instagram where I share frequent peeks at the colouring I'm doing along with other day to day snaps. You can also follow my page on Facebook if you'd like to connect over there.
Please note that in order to assist with the running of this blog I do use affiliate links from time to time and there may be some in this post, denoted with a *. Please see my About page for more information.