I promise, this is the last Christmas card I'll be sharing for a while. I've been telling myself I'll start them earlier this year, but January might be pushing it!

Christmas Scene Card
This card was finished right at the last minute on Christmas Eve! I spent a lovely couple of hours that day colouring up the scene, using a combination of Copic Markers and Polychromos pencils.
I really wanted to use more of my newly acquired stamps from Purple Onion Designs so I created a masked and stamped festive barnyard scene!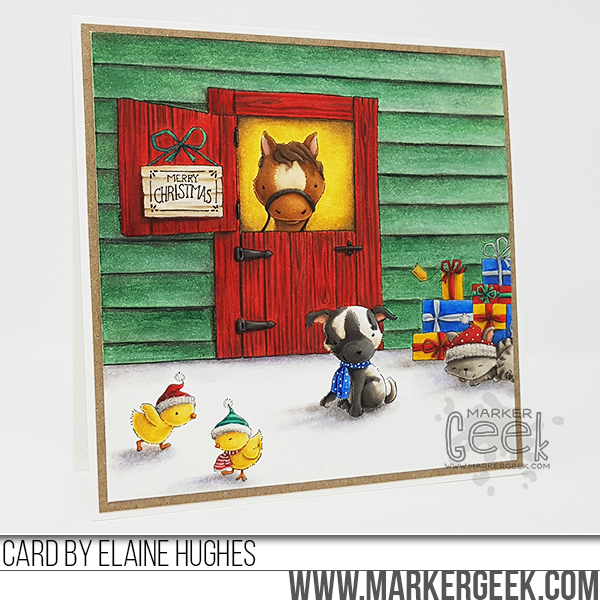 Stamps Used: Barn Door, Scout (Horse pulling Sleigh), Wood Winter & Holiday Signs, Buttons (Winter Kitten), Champ (Winter Puppy), Feather & Birdie (Winter Chicks), Presents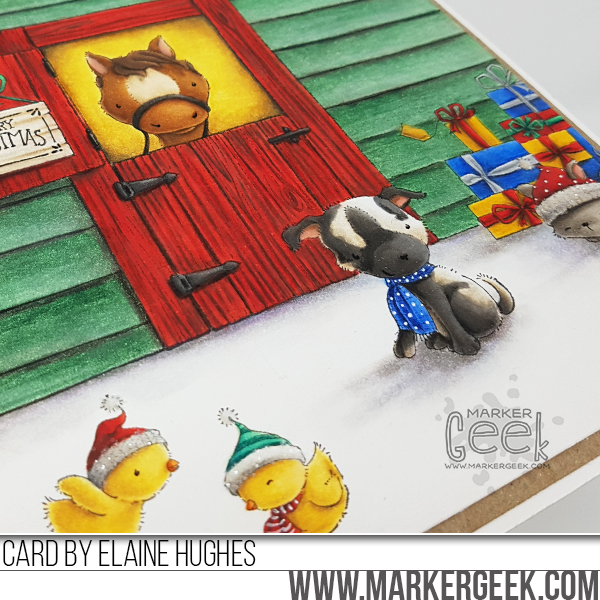 I finished the card off with a little glitter here and there, which of course is almost impossible to see in the photos.
Thanks for stopping by!
I hope you have enjoyed today's post as much as I enjoyed creating it for you.
Don't want to miss out on future posts? Subscribe to my RSS feed in your favourite blog reader or subscribe via email using the form over in the sidebar.
If you want to keep an eye on what I'm colouring on a daily(ish) basis, follow me over on Instagram where I share frequent peeks at the colouring I'm doing along with other day to day snaps. You can also follow my page on Facebook if you'd like to connect over there.
Please note that in order to assist with the running of this blog I do use affiliate links from time to time and there may be some in this post, denoted with a *. Please see my About page for more information.