I had a lot of fun creating today's card, using lots of my favourite products both new and old!

Mermaid Encouragement Card
As you may be aware, I'm a big fan of Mama Elephant stamps and dies, and I totally embrace my inner 8 year old when it comes to all things mermaid! Obviously the April 2019 release from Mama Elephant landed straight in my basket.
Towards the end of this post you will find a list of most of the Copic markers used on these cuties.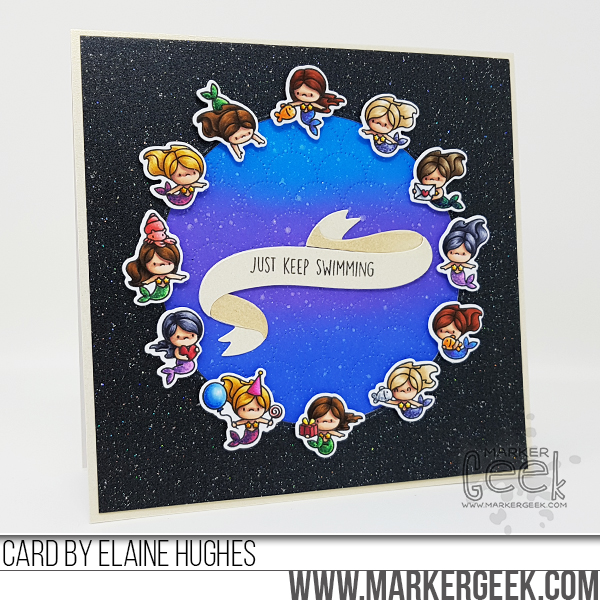 Stamps & Dies Used: Mama Elephant Little Mermaiden Agenda stamp set, Little Mermaiden Agenda Dies, Ribbon Banner Die, Scales Cover Die, MFT Inside and Out Stitched Circle die set, Stamping Bella Under the Sea sentiment set
I stamped the images using My Favorite Things Extreme Black hybrid ink on Make it Colour Blending Card before colouring with Copic Markers, then cut them out using the coordinating die set. I actually coloured all of the mermaids in the set, but didn't manage to fit them all on this card, so later in the week I'll be sharing what I did using the remaining ones!
I inked up the Scales Cover background die cut using Distress Oxide inks, then splattered with water followed by some diluted Inkon3 Liquid Pixie Dust to give a gorgeous sparkly background that the camera just doesn't pick up and do justice to! The gorgeous black sparkle effect cardstock that I can't quite stop using is from PaperMillDirect HERE.
Copic Markers Used:
Skin: E01,E11,E04 Hair: BV23,BV25,BV29 / E37,E47,E79 / E09,E29,E49
Hair: E51,E53,E55 / E43,E44,E47 / YR21,YR24,E35
Tails: FB2,FV2,BV17 / V04,V15,V17 / YG09,G19,G29 / BV29,B69,G19
Tails: RV19,V09,BV08 / BV02,BV04,BV08
Shell Bikinis: Y13,Y17,YR24
Thanks for stopping by!
I hope you have enjoyed today's post as much as I enjoyed creating it for you.
Don't want to miss out on future posts? Subscribe to my RSS feed in your favourite blog reader or subscribe via email using the form over in the sidebar.
If you want to keep an eye on what I'm colouring on a daily(ish) basis, follow me over on Instagram where I share frequent peeks at the colouring I'm doing along with other day to day snaps. You can also follow my page on Facebook if you'd like to connect over there.
Please note that in order to assist with the running of this blog I do use affiliate links from time to time and there may be some in this post, denoted with a *. Please see my About page for more information.