I enjoyed being a guest designer for Purple Onion Designs so much recently that I jumped at the chance to keep going! I have loved Stacey Yacula's designs for quite some time, so it's great to have a good excuse to get my collection inked up and on some cards. Hopefully you enjoy them as much as I do.

Holly Mouse Birthday Card
The Holly mouse stamp I used on this card happens to be one of the first Purple Onion Designs stamps I bought, quite a while ago now! She's just the cutest, and when I looked through my collection recently it occurred to me she would look adorable springing out from behind a big pile of gifts.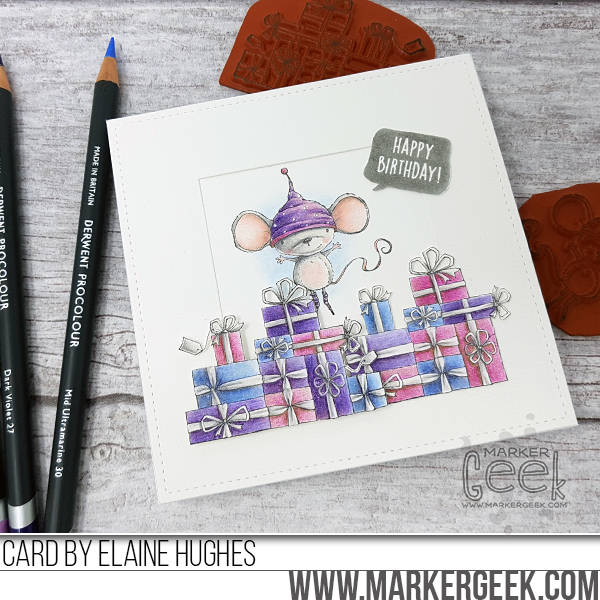 Stamps Used: Holly Mouse, Presents, Carnival/Fair Blurbs
I've been working on a big batch of images using Copic markers over the last week, so I decided to change things up and reach for my coloured pencils. I coloured everything using the Derwent Procolour pencils *, which I really love to work with. I simply used the pencils on their own to colour the images, no solvent or blending stumps.
NOTE: I have a post talking about my favourite pencil sharpeners for use with coloured pencil that you may find useful: My Favourite Pencil Sharpeners.
The images were all stamped on my favourite paper for coloured pencils: Bockingford Hot Pressed Watercolour Paper *
Derwent Procolour Pencils Used:
Mouse: Gunmetal, Storm Grey, Felt Grey, Pink Madder Lake, Light Moss Hat: Yellow Ochre, Heather, Dark Violet, Moss Green, Magenta, Heather Background: Mid Ultramarine, Sky Blue
Gifts: Spectrum Orange, Delft Blue, Mid Ultramarine, Sky Blue / Yellow Ochre, Blue Violet Lake, Dark Violet / Moss Green, Magenta, Heather Ribbons: Gunmetal, Storm Grey, Felt Grey, Chinese White
Thanks for stopping by!
I hope you have enjoyed today's post as much as I enjoyed creating it for you.
Don't want to miss out on future posts? Subscribe to my RSS feed in your favourite blog reader or subscribe via email using the form over in the sidebar.
If you want to keep an eye on what I'm colouring on a daily(ish) basis, follow me over on Instagram where I share frequent peeks at the colouring I'm doing along with other day to day snaps. You can also follow my page on Facebook if you'd like to connect over there.
Please note that in order to assist with the running of this blog I do use affiliate links from time to time and there may be some in this post, denoted with a *. Please see my About page for more information.
The stamps used to create today's card were purchased personally by me some time ago, however this post is part of an ongoing Design Team position with Purple Onion Designs. As always my opinions remain my own and I only share products that I love.