Turning all my previously coloured images into cards is definitely boosting my card stash at the moment! Today's card is another "here's one I coloured earlier", but I think it was worth the wait to see her make it on to a card!

Tiny Townie Bonnie Celebrates Shaker Card with No Line Colouring
I remember enjoying some intensive colouring therapy when tackling this image. No Line colouring is always a great way to get completely immersed in the process. Stamping Bella Tiny Townie Bonnie Loves Bows is a great image to try with this approach, as she has enough detail to be challenging, but not so much as to be completely overwhelming. Probably not one for your first attempt at "no lines", but a good intermediate one to try!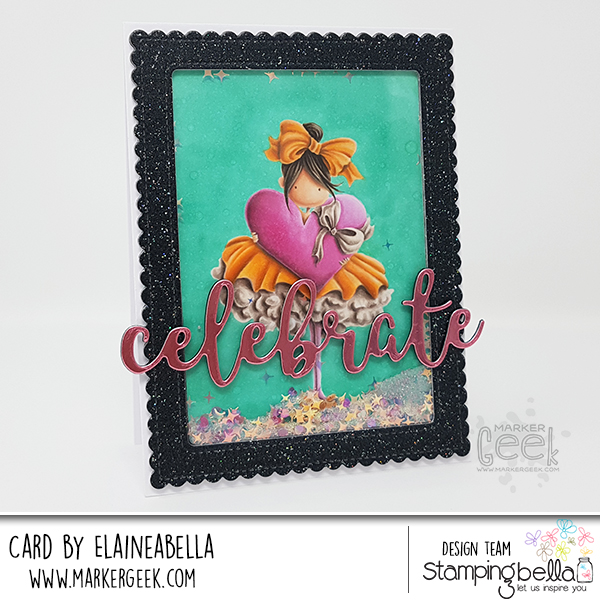 I stamped the image using InkOn3 FadeOut ink on Make it Colour Blending Card before colouring with Copic Markers.
NOTE: if you're in the UK/Europe you can find Stamping Bella stamps and dies at Dies to Die For here in the UK, including the latest releases.
Having reorganised my embellishment stash recently, and made it more accessible, I'm on a shaker card kick again! I love how this one turned out, and the Stamping Bella Celebrate sentiment die set was a great way to finish it off, cut from some gorgeous Tim Holtz Mirror Card (I layered three die cuts, two from plain cardstock, to create a sturdy element). I used the largest of the three dies in the set. The shaker material is a mixture of microbeads from my stash and beautiful Lucy's Cards sequin shaker mixes.
The frame was die cut from my favourite Paper Mill Direct black sparkle card using the Mama Elephant Framed Tags Madison Avenue die set.
Thanks for stopping by!
I hope you have enjoyed today's post as much as I enjoyed creating it for you.
Don't want to miss out on future posts? Subscribe to my RSS feed in your favourite blog reader or subscribe via email using the form over in the sidebar.
If you want to keep an eye on what I'm colouring on a daily(ish) basis, follow me over on Instagram where I share frequent peeks at the colouring I'm doing along with other day to day snaps. You can also follow my page on Facebook if you'd like to connect over there.
Please note that in order to assist with the running of this blog I do use affiliate links from time to time and there may be some in this post, denoted with a *. Please see my About page for more information.